Amazing Moundsville Websites by Local Web Designers
Local Web Designers Make BETTER Local Websites
Working with a designer that understands Moundsville and the Ohio Valley saves you countless hours and frustration. It's not that confusing – YES, we get customers from Ohio and West Virginia! Out-of-town designers just don't get it.
Local websites need local content. Get rid of the stock photos of the Ohio River and actually get a photos from OUR bridges and photos from OUR city. Head to the top of Grand Vue Park if you want an amazing shot of the area!
You might think the best designers hang out in New York...but we have some AMAZING talent right here in Moundsville. We pull the best from Belmont College, OUE, West Liberty, Bethany, WVNCC, and EGCC....and I could continue. Get an amazing site made by people that live in your hometown.
It really shouldn't cost you six-figures to get a website that works on a mobile phone. We have the technology at our fingertips and we've perfected it. We make amazing WordPress, Wix, and Shopify websites. You can update the site with an app and if you can post a picture on Facebook, you can update your own site. Technology+
Building Websites That Attract Moundsville Customers
Vetting large agencies in bigger cities is frustrating. Developing a website shouldn't stress you out.
You have a local Moundsville option ready to help. Ditch your SquareSpace.com trial and work with the professionals.
Take a vacation with your savings and avoid paying the large web design agencies.
Web Design Services - Right Here in West Virginia
We don't have enough fingers and toes to count all of the websites we've developed in Moundsville. We don't have to spend hours-upon-hours of researching Moundsville…we KNOW Moundsville. We create better local pages, speaking to our local audience.

Small Business Web Design
Local small business websites have a different approach than your big-box companies. You want Moundsville, Wheeling, and New Martinsville customers. You have to create the content to attract these users.

Responsive Web Design
We know that 80% of your customers are finding you on a mobile phone. Whether they are browsing while shopping at Kroger or Walmart – or searching during a John Marshall game intermission, we will make sure your website looks amazing on a mobile device.
eCommerce Websites
Want to get a leg up on the local Moundsville competition? Create an eCommerce store for your local business. Shopify, GoDaddy, Wix – sure, they all have options…but good luck figuring out how to get those pages to rank on search. That's what we specialize in.

WordPress Websites
Looking for a professional option where you can make the updates day-to-day. WordPress might be your solution. Not only do we create beautiful designs, that rank on search, we also provide you with helpful tutorials so you and your staff can make the updates (without knowing any code).
Custom Web Design
We promise that your website won't look like your neighbors. We offer custom solutions that allow you to have a customized website that is personalized for your brand. The best part, it won't take us 12-months and cost you $20,000.

Affordable Web Design
We want to Make a Better Web for the Moundsville. This means we need better websites for mom-and-pops and start-up businesses. You don't have to drop 5 or 6 figures to get a website that will make you 5 or 6 figures.
Design for the User and the Bot.
It takes strategy to get users to your website. It takes creativity to stop the scroll.
Right Brain. Left Brain. Total Mind Control.
Moundsville Web Design Packages
Your Website is your #1 Marketing Tool. A brand new website that will last you years will cost less than your typical advertising package with Lamar, WTRF, or iHeartRadio.
Web Design Services & More
Your website is the foundation for your digital marketing. But sometimes you need more than an exceptional website to dominate your market.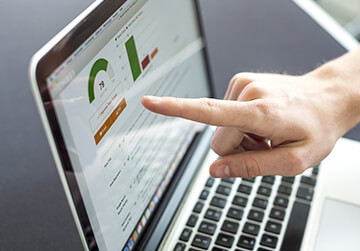 Search Engine Optimization
Ranking on Google can turn your business into an industry leader in Moundsville. It's possible to develop a strategy and pull users from all over the Ohio Valley. SEO is the way and we have a custom plan for you.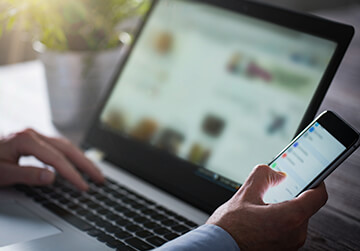 Social Media Marketing
Social Media is a huge part of any digital marketing plan. We know who the major players are in the Ohio Valley and what tactics work in Moundsville. Become one of the Ohio Valley influencers.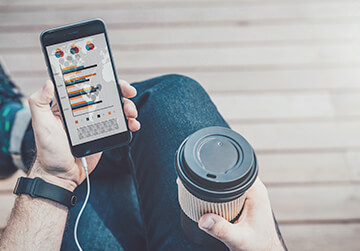 Digital Marketing
Marketing online comes in many formats. From display ads to influencer marketing, find out what tactics are helping businesses grow. There are plenty of options in Moundsville. We just so happen to know the most affordable and best.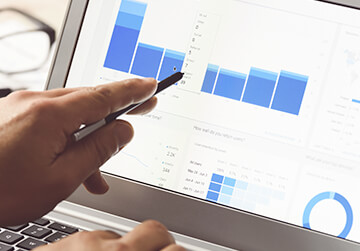 Web Analytics
Only 1 out of 10 businesses in Moundsville actually use their Google Analytics to make better marketing decisions. Most of those businesses work with us to make sure they are efficient and putting money behind campaigns that work.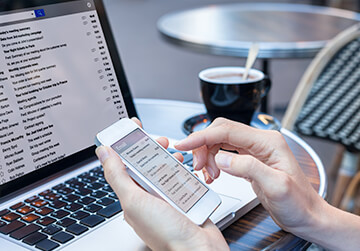 Email Marketing
There is nothing more important than generating your own email list and controlling your message. Forget the algorithms and segment your audience so you can deliver your message to all of your contacts in Moundsville at the press of a button.
"Very knowledgeable and very attentive. Listens to the customer then creates a plan. Understands small businesses as well as larger businesses. So wonderful to experience that level of knowledge and integrity."
Wendy A.
St. Clairsvile Area Chamber of Commerce
"Eric has a brilliant mind, is wonderful to work with, & brings a passion to helping your company grow and succeed. I can't recomend Eric's services enough!"
"Eric gave a fantastic & informative presentation for our office. He made tech talk fun & easy to understand."
Kimberly O.
Kennen & Kennen
"Eric is brilliant when it comes to web design. He showed me what I needed when I didn't know where to begin! I highly recommend Eric Hersey to any business."
Barbara G.
MOS Office Systems
"Finally, someone local I can trust with web design/ and analytics for our digital team. Eric is reasonable and fair and one of the brightest people I've met when it comes to digital media. If you're in the Ohio Valley, Eric should be you're first and only choice."
"Mr. Hersey is one of the most creatively talented people I have ever come across. I have worked with him for many years on various passion projects involving websites, social media, and other content. Mr. Hersey has a great eye for design and aesthetics, and his development and SEO work is second to none."
"Nobody has the mind for Web Development that Eric does. He works hard to make your website keep your voice while doing helping drive traffic your way. He is passionate about what he does and it shows in his work. Highly recommend!"
"Eric Hersey has a very detailed vision, is very approachable and work diligently to collaborate with your vision and deliver based on your wants. Eric and I have worked on multiple projects over the years and he is the only designer/developer that I trust to handle my needs the way I want them handled."
Karl H.
"I have been involved with Eric Hersey on a few projects.He makes the process easy for his clients who don't have a lot of experience with websites and social media. He was easy to work with and completed the projects in a timely manner. I highly recommend his services."
Justin B.
Franchise 10 Apparel
"After years of stubbornness of "building" and "ranking" my business website, I finally went to a professional. Eric built my site into something I was actually proud to show friends and family. He also increased my organic reach in google search; which has led to an impressive increase in sales and traffic. If you are a business owner, I recommend at least having a conversation with Eric to see what he can do for you and/or your business."
Ryan C.
"Eric has done many websites and digital marketing for my clients and his work is outstanding. Eric works closely with what the client to make sure their website is what they envisioned. Eric is always prompt to respond to your inquiries in regards to your website too. He is professional and I highly recommend him for all your website and digital marketing needs!"
"Eric is very informed about the different strategies that can help improve your web presence. He has helped our company with some minor items and they can have major impacts. With his wealth of information, we love that Eric is in our network to be able to reach out to."
Allen B.
Best Business Strategies
"Eric has been making great websites for a long time and it shows - there's a huge benefit to having someone with his experience to work with when you're trying to get the word out about your business, and his knowledge and professionalism is apparent at every step. He is thorough and thoughtful, and the end result could not have been better. I'll be a customer for a long time to come and could not recommend him enough!"
Dave G.
"I have had the distinct pleasure of working with Eric Hersey over the last 19 months. He has offered great advice to help the company I work for grow their SEO rankings, as well as coach me on the importance of analyzing my Google Analytics. Outside of the last year and a half, I have known Eric for over 7 years and watched his skills as a Web Designer flourish and he has become one of the premier up and coming web designers in our area. I would recommend Mr. Hersey for all your Web Design and Development needs."
"When it comes to website design and development, SEO campaign creation and tracking, and website marketing, Eric is simply the best. GKT has partnered with Eric on numerous projects and he remains an important member of our team as we work to maximize our on-line presence. In addition, Eric is one heck of a person."
George B.
Gold, Khourey & Turak
"I work with Eric personally and highly recommend him to any person or business that wants to see if they website they have is working for them. Eric breaks it down into terms even the most technically challenged person can understand. He is knowledgable, reliable, and extremely affordable for the services he provides."
Sherrie D.
Graduating Grief
"Mr. Hersey is a wealth of knowledge that is invaluable when it comes to online advertising topics. I'm not expert in this arena, but every question I had, he was able to answer quickly and in an intelligent manner in a way I could understand. I would, and do, recommend him to everyone. Five stars well earned!"
Anthony E.
Edmond & Baum PLLC
"Eric Hersey has been working to help me make my small business visible online through several avenues including my website, social media, Google and SEO's in general. I didn't know much about technology in general, especially SEO or development terms but he listened to what I needed as a small business owner and started to work immediately. He's been a great communicator, efficient and making sure I understand how everything works."
Nancy H.
ReDecorate Consignment
"Eric provided an extremely high quality website for a very reasonable price. Eric explained the design, purpose and showed us how to make future adjustments. Eric was there for us every step of the way from layout to photos and to wording. Eric worked to design a website that fit our budget. He is a professional & provides quality web design and features. Eric also provides service after the sale. If you are in need of a 21st century website, I highly recommend Eric Hersey."
Jim P.
Columbia Sales Inc.
"Eric's knowledge of web design and social media outreach is, in my humble opinion, the best in the valley. He will make sure that whatever goal that you want to achieve with your website or social media page is met and then some. I definitely recommend Eric if you have any web design, website, social media help, etc- he's the guy to go to if you want high-quality, high-touch customer service and quality."
Renee S.
World Beyond the Storm
"Eric has gone above and beyond from the very first day we began utilizing his services and expertise for our business. He provides a wealth of knowledge in web design, marketing, social media, advertising, etc. and is extremely thorough with every task, question, or project we've collaborated on together. I strongly recommend his business for anyone seeking top tier service at a reasonable price."
Sam F.
Career Strategy Consultants