You don't need to blog or add new content to your website.
Digital marketing specialists and advertising agencies heard the buzzword of blogging years ago and added it to their vocabulary – and their service list.
Next thing you know, they are screaming at the top of their lungs that Jim, the owner of a shoe repair company, should be posting his thoughts on his website.
Stop the nonsense.
There's a reason to blog. You can get a competitive advantage by posting online. But it's not as simple as writing in your digital diary.
What Happens to Your Web Traffic When You Stop Blogging?
For most small business websites, eliminating monthly blogs have very little impact on your overall website traffic.
Most of small business website traffic come from direct/brand name searches or discovery searches for a product/category/service.
Local company blogs are poorly optimized, allowing national brands and high authority websites to earn the top ranking positions.
Blogging My Way from 2 Users to 300 Users
On August 24, 2021, I posted a blog.
I waited 365 days before I posted another article on my site.
Mind you, I was publishing four to six new, fresh articles per month since July 2019. These articles were on-brand, mostly discussing digital marketing tactics and web design fundamentals. Most, if not all, were over 1,000 words and optimized.
In July 2019, I had 2 users visit my site from search.
By March 2021, I had 300 users coming from search.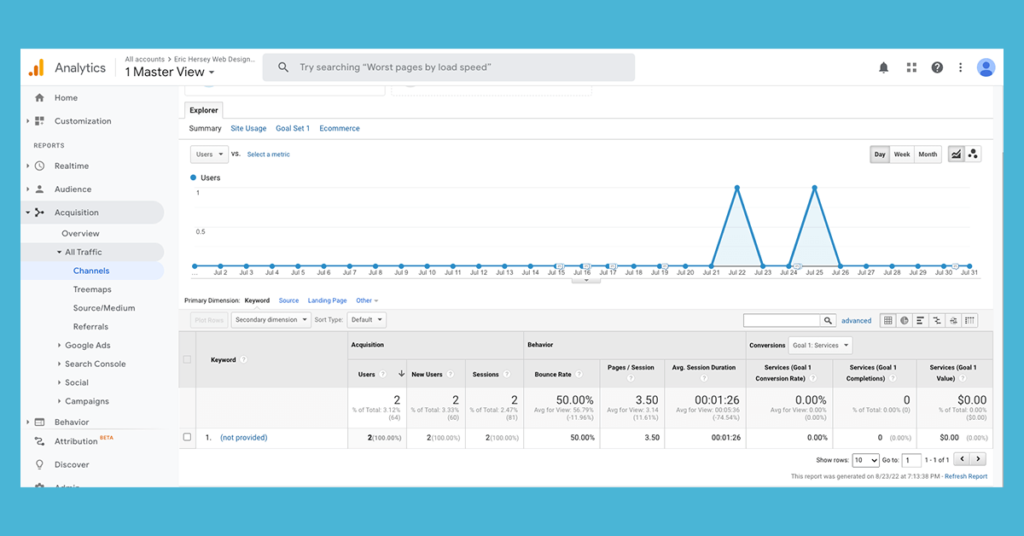 Okay – 300 users might not be impressive if you run a news organization. A small web design company like Eric Hersey Web Design, I will gladly take 300 users.
…and many of my small-medium sized businesses would take 300 users – especially it was "free" organic search traffic.
If you missed that, 300 users came to the website without any money being exchanged. Time and expertise. That's it. Sharing my thoughts on a digital notepad and hitting publish.
Considering web design is a low-volume business – this is a win.
Since I'm not advertising on my website, the real question is: how many of those 300 converted to paying customers?
Setting Goals for Your Website: Traffic, Leads, and Engagement
Every website has a goal.
Often I ask business owners what the goal of the website and I get a blank stare.
It's to get more sales…but is that all?
Most small business websites don't sell product on the actual site. So how does the website actually make you money?
Websites allows us to track micro-conversions.
We should be establishing goals or tasks for your users to complete, marking accordingly in your analytics program.
These micro-conversions can help you establish a base and create a path (or funnel) that will lead to your sale.
By tracking these conversions, we can project and influence trends that will lead to more calls and more conversions…aka, more cash for the small business.
What Goals Should You Create for Your Small Business Website?
Every scroll, click, and hover tells you something about your users. Google Analytics and other tools allow you to create specific goals and conversions for these tasks.
Contact Form Submissions
Newsletter Sign-Ups
Link clicks (Phone Number or Email)
Time Spent on Site
Specific Page Visits
Goals to Track for Local Service Based Businesses
If you are serving customers in a specific region, your local traffic makes a big difference. Local service businesses might be a physical shop or someone who travels to the customers location – both benefiting from getting the "near me" traffic.
Contact Form
My entire goal is to get traffic to the website and at the end of the session someone contact me.
This can be done with a form, phone call, or email.
The contact form is typically the easiest way for a user to send an inquiry and also track on the website.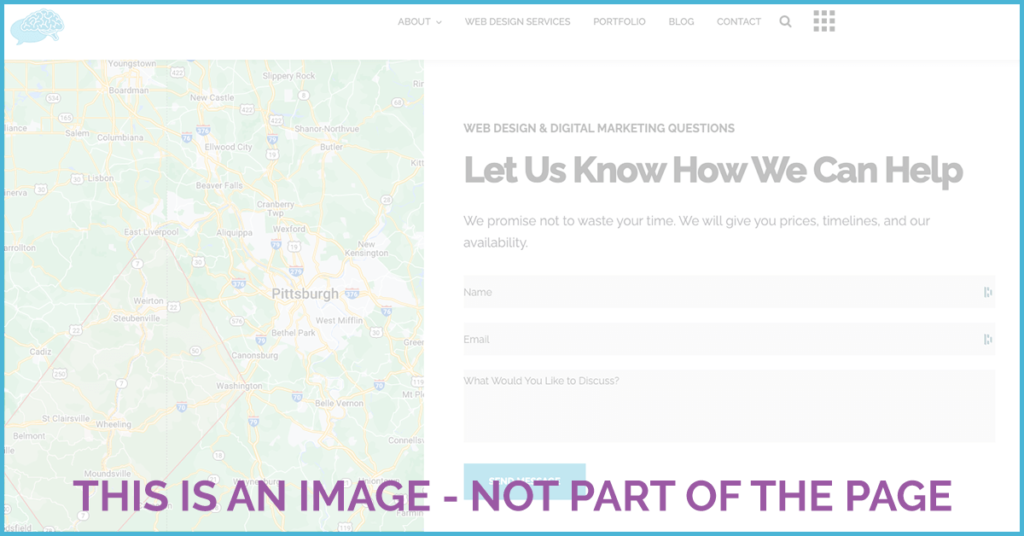 Service Page
Most users enter the site via homepage. Counting the pageviews are nice, but when they land on the service pages, that's the goldmine. We know they are interested and looking for more information.
For this reason, tracking how many users hit a service page is important.
In my situation, an example of a service page is my Web Design Services or SEO Services.
Time Spent on Site
Engagement is important. Not all users are going to read your content (actually most will skim), but there can be strong correlations to how long someone stays on your site to how likely they will contact you or become an advocate.
Google Analytics Tracking
It's fairly easy to set up goals in Google Analytics.
Every time a user submits a form, visits a page, or scrolls around the site – these interactions triggers an event. You can pull reports that show what percentage of your users complete each task.
Even better, you can see where the users came from (location and medium).
Maybe you put up a billboard on National Road in Wheeling and within months you have 20% of your users submitting forms (while browsing in Wheeling). That data might prompt you to buy another billboard in St. Clairsville.
Traffic or Leads
It's unlikely you are running a local business website and looking for ad revenue from traffic. These websites are usually exclusive to news outlets or actual full-time bloggers.
The amount of traffic makes a difference when you are paid each time a user visits a page.
Of course, you want anyone and everyone to visit the page, see the ads, and click on your affiliate links. Every article you create and publish generates you money.
This, again, is not your small business.
I would take one person that searches "wheeling web design" and views my service pages over the 100 users that read a random blog that I shared on Facebook.
Quality is certainly better than quantity in this situation.
In fact, you can buy traffic fairly easily. You want to boost your numbers? Buy some display ads. Your accidental clicks will make your metrics look great, but how many are actually completing your goals?
Focus on your goals and leads – not your traffic count.
How Many of My 300 Users Convert?
Although I track a lot, a main focus has been users visiting my service pages.
On average (2022), about 10-15% of users to EricHersey.com visit a service page – Web Design, SEO, Content Marketing, etc…
So if it's 10-15% in 2022 (a year without blogging), what was it in 2021?
Increasing Leads by Eliminating Blogging
It seems illogical that I would eliminate a few hours of work each week and actually gain traffic (and money). Going into this experiment I figured one of the two things would happen:
Lose traffic since I eliminated all original content
Stay steady based on residual traffic from several years of posting
In fact, for most of 2021 about 5% of users (organic search*) were visiting my service pages.
In 2022, 9.91% of users (organic search*) were visiting a service page.
*Organic Search = Google, Bing, Yahoo – users finding me on search engines.
So why did this happen? Why did my conversion rate double after I STOPPED producing new content?
Why Blogs Don't Work for Small Businesses – the Way You Think They Should
I mentioned earlier, small business websites are competing with the biggest brands on the internet.
Although search engines will throw the little guys a bone when it comes to local search, when a company decides to write a "how to" blog, they are fighting against the heaviest of hitters.
A local staffing agency writing about "ways to make your resume stand out" is going head-to-head with Indeed, Monster, and CNBC.

If you think you can just wake up one day and write a blog about your profession in 15-minutes and land a ton of new clients – you certainly aren't doing that through organic search traffic.

Yes, small businesses can generate leads and traffic online – but they are usually hyper-niche queries and the majority of the time the traffic is coming from across the nation (most in which will not visit your quaint mom-and-pop-shop).

When your marketing help or advertising agency suggests you start blogging, I should hope they give you the real reason.
Content Marketing Strategy
Remember when I scrutinized agencies for telling every small business owner to blog – here's why.
Blogging works when you do it right – with the correct objective.
Every piece of content has a place.
Some content is made to be found on search engines.
Other articles or blogs are great for sharing on social.
There's even room for content that exists for the smallest of audiences (you and Google).
Hype Blogs: Writing to Show Expertise
Out of my 100+ articles, most were made for me and Google. My whole goal was to provide articles that would hype my main goal – service pages.
Yes, I would write 1000 words about WooCommerce knowing that I was never going to be found on search for "woocommerce". I knew this blog would fall flat on social – because most of you don't care about web design, let alone like or share the post.
But, by writing 1000 words on a topic like WooCommerce, this would give a clear indication to search engines that I have expertise on the topic of E-commerce websites.
So when someone would search "e-commerce web designers near me" I would likely show up.
Do this for every service you offer, there's no doubt that the search engines understand your expertise.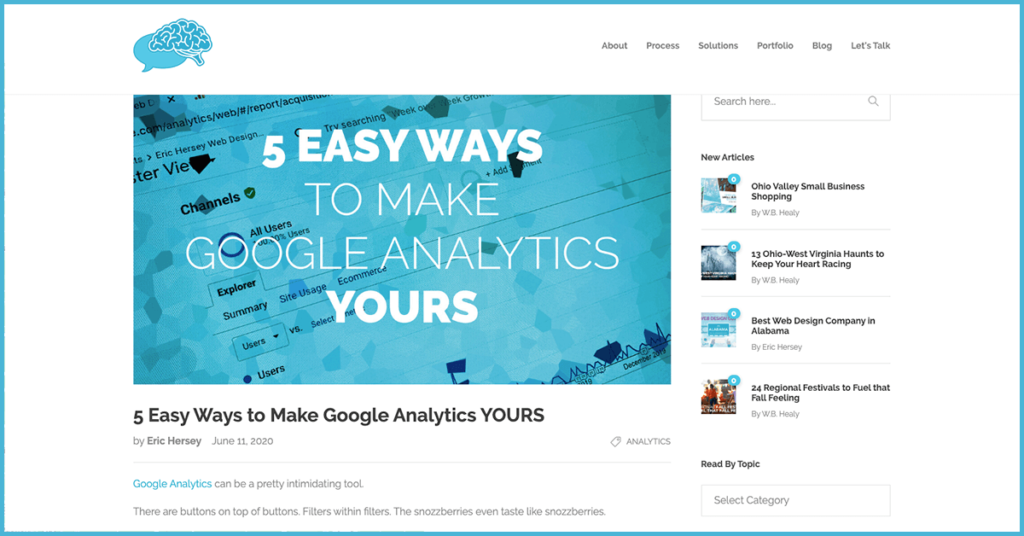 Vanity Blogs: Great for Social Shares
Here's the pitfall for most small businesses.
They write a blog about a service or specific brand topic.
They share on social.
No one likes it, shares it, or sees it.
It didn't work.
They stop blogging.
Although if they would have kept it up, it's likely they could have seen positive returns. But what they wanted was local reach on social and people hitting the like button.
There's a time and a place for great social sharing blogs. Often this requires you to be in an industry that people (in large) care about or you are involved in some niche groups that care about your topic.
But the simple hack is usually going off topic and writing about something personal that your friends and family are interested in.
This blog might not help you capture leads, but there's nothing wrong with building out your own personal brand or expanding your reach with something not entirely business related.
Being Found on Search: Organic Reach Blogs
Sometimes you can luck into a blog that is found and ranked highly on search. In most cases, this won't happen without some coaching and guidance.
Remember when we talk about businesses that get paid for search traffic? Yeah – you are competing against these brands.
They do keyword research, they have tools to determine probability of ranking, and professional copyrighters and researchers.
You can beat them, but you need to be prepared. Writing your thoughts in 300 words won't likely make the cut.
There are plenty of terms you can win, but you have to prove that you are an expert and have authority in the topic.
Does your small business need to blog?
No. I don't think any small business needs to blog to be successful online.
There are certainly situations where it is a great hack to gain visibility and new customers, but at the end of the day most small businesses don't have the technical skill or endurance to blog regularly to success.
Most of your website traffic will come from your ability to own your local search terms. This can be done by crafting a very strong website and making your service pages really explain your knowledge and expertise on your profession. This can be done with a series of blogs, but having strong service, case studies, and about pages will do the same with the burden of weekly posting.
Sadly, I've witnessed companies blog monthly for zero return because they were blindly told they needed to blog.
How to tell if blogging is right for you?
Maybe blogging and content marketing is the right channel for you to grow your business. It worked for me. What other businesses can use blogging as a way to gain exposure?
DIY Start-Ups with Time
Blogging can be a great start to marketing if you are just starting out and have time to grow.
You are simply sharing your thoughts and answering questions. You need some basic writing skills, but Grammarly can help you get 75% of the way there.
If you have more time than money, start now.
Realize that not all blogs create the same results, so figure out what's important for you (I suggest a little of all three).
Individuals freelancing or are starting up a side-gig are best for blogging.
If you are a new business and need to grow fast, buy your visibility. Blogging is a marathon. You might not have a year to see leads coming through.
Businesses with a Marketing Budget and Time to Invest
If you have an advertising budget, set some aside for content marketing and SEO.
Hiring specialists will bring you quicker results, but it still takes time. They can research your topics and provide you drafts that you can sign off on. Although we always love getting the hands on experience of the business owners and employees, it's more realistic that we have ghost writers that fill in the blanks.
Hiring a freelancer is not always the answer. You need someone that is overlooking the strategy. Mapping out in advance what topics you are covering and overall goals is just as important as the content.
Creating consistent content will help build your expertise and get some new eyes on your company.
Why My Conversion Went Up When I Stopped Blogging?
Although I did have a few blogs rank nationally, they were not by design. Nearly all of my blogs were made simply as hype blogs – blogs that were going to support me being an expert in Web Design and SEO.
Although it's never wise to quit cold-turkey (unless you are running an experiment like I did), there is a point where Google and Search Engines "get your point". They know you are the expert. They understand who you serve and where you are located.
My competitors weren't paying attention and putting in the work, so I slipped by and have been controlling the lead (while taking a year off).
This isn't likely the case with many businesses (and I won't likely be able to take another year off), but the goal of search engine optimization and content marketing is to create organic, passive traffic. You write an article one time and continue to see the benefits for years to come.
My individual blogs didn't earn me a bunch of passive income, but my ability to convince search engines I was an expert allowed me to earn a ton of organic traffic and clicks.
Conclusion: Should You Blog?
Don't blog just because your ad agency or business coach told you to.
If you have a modest advertising budget and your business can operate a year without a return on your investment, yes – you should start blogging (content marketing).
If you're a decent writer (or can put together some coherent thoughts) and have several hours per month to dedicate to writing, publishing, and learning, you should give blogging a try.
If you need a quick win, do not blog (or expect this to be your winning formula).
If you don't have a message or a goal (short/long term), don't blog. You will not see the results you are looking for.
Your business does not need to continually add information to your website for your business to be successful. Time and energy goes into effective content marketing. There are no "cheats" or "hacks". If you want to win on the internet quickly, buy some ads. If you want to showcase your expertise, share your thoughts, and earn organic traffic – blogging can work for you.
Work hard. Do it well. Take a year off.