We continue our journey searching for the best web design company in each state. Our fourth state (alphabetical order) is Arkansas. Since I've reviewed hundreds of local web design companies and thousands of local websites, I will gladly lend my expertise to the Arkansas locals looking for reputable web design companies.
The Rules: Reminder
I'm not reviewing every single website provided for web designers in Arkansas (what kind of free time do you think I have?). Instead, I will use popular search engines and highly sought search terms.
Google – using the term "Best Web Design Company (state)"
Bing – "Web Design Firms (state)"
Duck Duck Go – "Web Design Agency (state)
Clutch.co – "Top Web Design Companies (state)"
Since mobile design and browsing are important, I'm reviewing all of these sites on mobile.
Other things to consider:
Speed
Reviews
Functionality
Originality
This is part of my ongoing series – Best Web Design A-Z
Arkansas: The State
If you are like me, you first heard of Arkansas when Bill Clinton was elected president. If you are older (or better at geography), you might know Arkansas as a state located in the southern region – bordered by six states, including Missouri to the north, Tennessee to the east, Louisiana to the south, and Oklahoma, Texas, and Mississippi to the west.
In school, we all knew the capital of Arkansas was Little Rock (because it was fun to say). Little Rock is also the state's largest city. Don't you love it when things like that sync up?
Arkansas is known for its natural beauty, with numerous state parks and forests that offer opportunities for outdoor recreation. One of the most notable attractions in Arkansas is the Hot Springs National Park, which is located in the Ouachita Mountains. You guessed it! This park is known for the natural hot springs.
Another iconic feature of Arkansas is the Mississippi River, which runs along the state's eastern border. It's tough for me to admit (living in Ohio most of my life), but the Mississippi is the most famous river in the US – and Arkansas is all about this river. The river played a crucial role in the state's history, serving as a major transportation route for goods and people. Today, visitors can take a riverboat tour to explore the Mississippi and learn about its importance to the region. Additionally, the river's Delta region is known for its blues music heritage, and visitors can explore museums and music venues to experience this unique cultural tradition.
I learned more about Arkansas in the five-minutes of Google research than I knew in my 30+ years. Let's hope our research also provides us with a ton of AMAZING web design companies. Let's proceed down the Google River!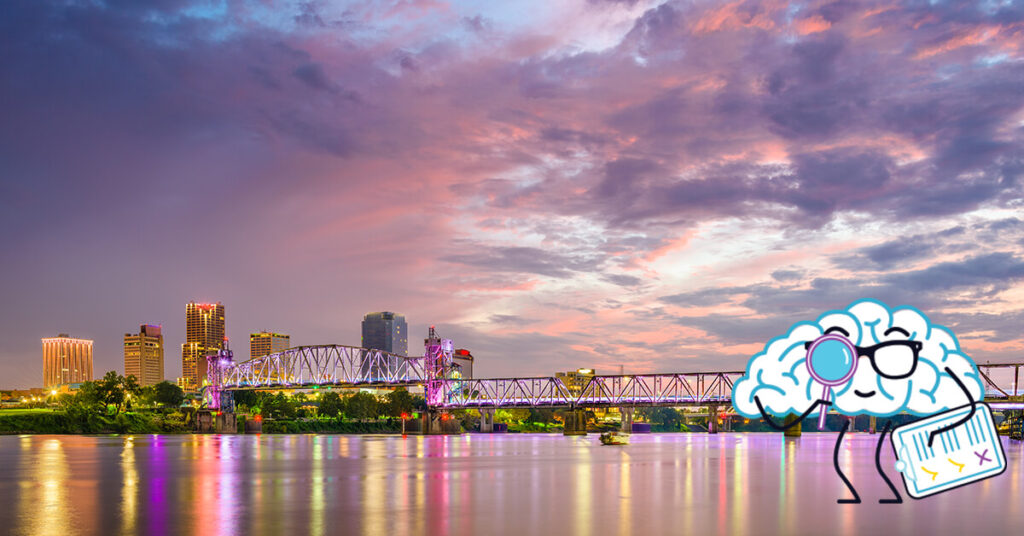 Best Web Design Company Arkansas – Google

Google results provide the Google Business Profile Map Pack and also organic results. We won't be looking at Google Sponsored Ads or any informational results – simply web design companies.
WebJive does a lot of things right. As I research more and more web design companies, I realize that we all tend to use Raleway font. There must be something appealing to us designers – or the templates we use from WordPress designers. Speaking of, I imagine they primarily make WordPress sites. By checking out their site map, this is what they are using. Im slightly biased because it appears we have a similar model. They seem to focus more on content than original designs. WordPress is perfect for that.
Like so many websites I find, there's plenty of marketing speak and probably not enough personality or human elements. The website answered plenty of questions, but I didn't see any faces or actual Humans we would be working with. They list features and services they offer, with corresponding paragraphs, but there were moments that I would have liked to see video options or the content it bite-sized-chunks.
WebJive was using some pretty solid SEO techniques with plenty of internal keyword linking and local pages highlighting their top cities served. I was happy to see their pricing for SEO, which starts at $395. They ask the right questions to determine website cost, but they don't seem to give a price.
Not a bad website and the company appears to be legit. They tend to practice what they preach, so they should be on your list of potential candidates.
Web Design Firms Arkansas – Bing
Let's forget to use "best" or "top". How about we just find out what organic Bing results show up for web design firms.
Web Design Agency Arkansas – DuckDuckGo

DuckDuckGo won't focus on local results – meaning we won't be looking at any map packs. Let's head right to the organic results.
Top Web Design Companies Arkansas – Clutch.co

Who is the Best Web Design Company in Arkansas?
Google, Bing, Duck Duck Go, and Clutch.co delivered some quality results for Web Design and Marketing Agencies in Arkansas. Unlike Alaska, there's plenty to choose from – all with pro's and con's.
The design of their website doesn't matter to most looking for an affordable, high-quality website for their small business or brand – so I won't get too carried away with my opinions. Granted, if there were fundamental elements wrong on the company website, that's a huge red flag for me.
When reviewing over the 12 Best Web Design Companies (listed), I found myself going back to Galifrey, MHP/Team SI, SixtyOne Celsius, and Utility Media. All of these companies offer more than just Web Design. This is probably the case for most design companies. It's probably not a good idea to just hire a web design company that doesn't also specialize in SEO, photography, or branding. They all go together.
I think I would give MHP/Team SI a call. They did a great job explaining their process. Their SEO game is strong and conversion game even stronger. The website was clean, easy to navigate, and you can tell they are real (yes, they showcased some pictures of the team).
What I Learned from Browsing Arkansas Web Design Websites?
Arkansas is not a huge state with a huge population. They rank 34th in population. Even though they don't have a ton of people – thus less web design companies – there were plenty of quality options to choose from.
The top firms that showed up in my search results all offered more than just websites. This made their own websites a bit more robust, allowing for users to learn more about their process. This also made it a bit easier to decide if they were legit or just "copied and pasted" the most popular web design phrases o their site. This probably also make them a bit more expensive.
The funny thing that I really realized during my search for Arkansas design companies was their lack of local SEO or Google reviews. We are talking about large companies with multiple offices and a pretty big staff with less than 10 Google reviews. This was just odd.
Overall, Arkansas, not a bad job when it comes to supporting local web design companies.
Does Having a Local Arkansas Web Design Company Matter?
Do I think you need an Arkansas Web Design Company to build you a website if you live or work in Arkansas?
Probably not.
Do I think you should just hire a West Virginia Web Design Company? No.
But, if you get sick and tired of searching through websites and making phone calls to get prices, at least this Web Designer in Wheeling, West Virginia will give you some transparency. We might not know exactly what it's like to live and work in Arkansas, but if you want to open up your calendar for some conversations, we can make it work.
Most of the time it doesn't matter where you get your website made. It really just matters that the designer and agency understands your goals and your target market.
If you want an experts opinion on a different local Arkansas Web Design Company, shoot us a message.