Finding the best web designers and web design companies in Alabama takes a little bit of research and a lot of browsing. As part of my ongoing series, I took it upon myself to find the top web design agencies in Alabama – while browsing from West Virginia.
The Rules: Reminder
I'm not reviewing every single website provided for web designers in Alabama. Instead, I will use popular search engines and highly sought search terms.
Google – using the term "Best Web Design Company (state)"
Bing – "Web Design Firms (state)"
Duck Duck Go – "Web Design Agency (state)
Clutch.co – "Top Web Design Companies (state)"
Since mobile design and browsing are important, I'm reviewing all of these sites on mobile.
Other things to consider:
Speed
Reviews
Functionality
Originality
This is part of my ongoing series – Best Web Design A-Z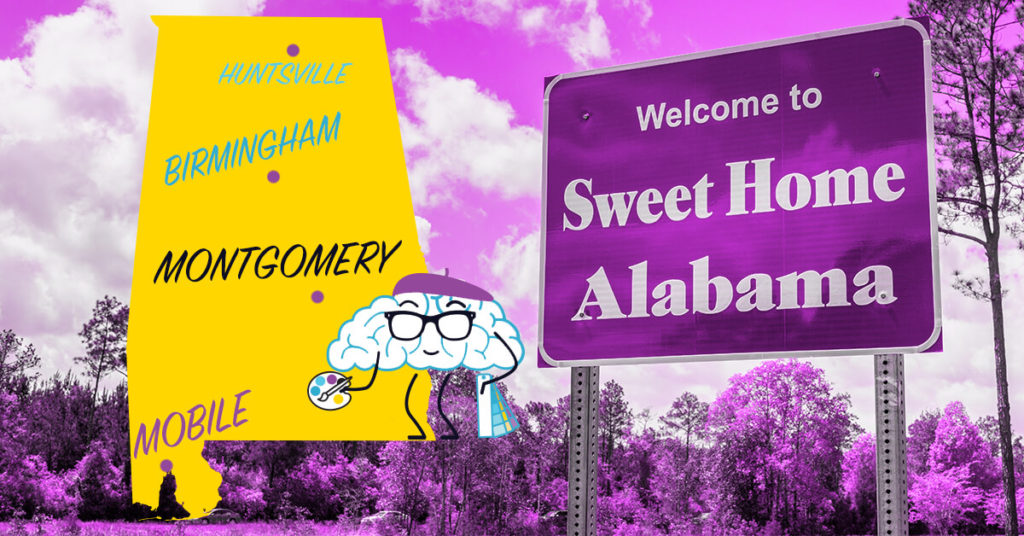 Alabama: The State
Alabama is the first start on the list – alphabetically. The state of Alabama has nearly 5 million residents, which exceeds the population of their neighbor Mississippi and nearby Louisiana. The majority of the southern border is neighbors with Florida. Some lucky residents are located directly on the Gulf of Mexico – with the biggest city on the gulf being Mobile.
Birmingham and Huntsville are also well-known cities with the largest population. Montgomery and Tuscaloosa also fall within the top 10 populated Alabama cities. Alabama is divided into 67 counties and contains 460 incorporated municipalities consisting of 169 cities and 291 towns. The entire state is 52,419 square miles.
All of this is to say, there should be plenty of Web Design Companies to choose from.
Best Web Design Company Alabama – Google

Google results provide the Google My Business Map Pack and also organic results. We won't be looking at Google Sponsored Ads or any informational results – simply web design companies.
Be Seen Solutions
Search: #1 on Google My Business for "Best Web Design Company Alabama"
Location: Huntsville, AL
Website: beseensolutions.com
Preferred CMS: WordPress
Price Range: $2,500-$5,000
Mobile PageSpeed: 66
Google Reviews: 5.0 (14 reviews)
Be Seen Solutions had a clean, minimalistic website. It reminds me of the backend of Google My Business – which seems fitting since they tout that they rank #1 for Web Design Company in Huntsville.
Be Seen Solutions service pages are filled with information. They provide answers to many questions – how much does a website cost, how long does it take to build, what platform and hosting do you use, etc….
They offer services aimed at organic search. Besides web design, they offer SEO and analytics plans. You can tell by the content they have a good understanding of how to write and design for the web.
There are missing elements explaining who they are. The about page has a single image of a man, guessing his name is Gunnar (based on the email provided in the footer). There wasn't much else listed about the team or company.
A lot of the information provided was helpful for understanding why you should get a website but I wasn't convinced I should work with them.
Moore Tech Solutions
Search: #2 on Google My Business for "Web Design Company Alabama"
Location: Birmingham, AL
Website: mooretechsolutions.com
Preferred CMS: Joolma and WordPress
Price Range: Unknown
Mobile PageSpeed: 42
Google Reviews: 4.9 (38 reviews)
It's really difficult to browse a website when half of your screen is the company logo and navigation menu. Guess what I had to do on this website?
Moore Tech Solutions offers a variety of digital offerings, with their top product being web design. Unlike some companies, they appear to be more flexible and will work with various CMS systems like Joomla and WordPress. They even offer customized solutions. I can only imagine the price points will be very dependent on the specific client's need.
As part of the web build, they provide you with training and videos so you can make your own website edits. They also offer maintenance plans to help you update the backend – which tends to be a frequent occurrence for many backends.
They had a long list of clients and portfolio options, but I'm not entirely sure about their process or who you would be working with. It appears they can make a fully responsive and functional website but it's unclear or philosophy, price, and process.
Mobile Web Design
Search: #3 on Google My Business for "Web Design Company Alabama"
Location: Mobile, AL
Website: mobilewebdesignal.com
Preferred CMS: Unknown
Price Range: Unknown
Mobile PageSpeed: 54
Google Reviews: 5.0 (25 reviews)
Mobile Web Design has one of the most unfortunate/fortunate names I've seen. Unless you are in Alabama, a brand search will likely provide you results for mobile phone design specialists. If they would optimize their strategy for a responsive specific design, they might have an unclear advantage.
Mobile's website doesn't give us much information. We know they offer web design, SEO plans, and social media management – just not the pricing or process.
The homepage gives us some information. Each website is custom and it usually takes less than 30-days. This makes me think they are customizing themes – likely WordPress, since it's the platform they are using for their site.
You can see their work, but they don't showcase their staff, owner, or lend any face to the brand.
The website needs a little more for me to confidently feel like they would be the best option.
Web Design Firms Alabama – Bing
Let's forget to use "best" or "top". How about we just find out what organic Bing results show up for web design firms.
Axcess Web Technologies
Search: #1 on Bing Local for "Web Design Firm Alabama"
Location: Tuscaloosa, AL
Website: axcesswebtech.com
Preferred CMS: Various
Price Range: $2,000-5,000
Mobile PageSpeed: 44
Google Reviews: 5.0 (10 reviews)
Axcess Web Technologies is filled with some glowing positives and some glaring negatives. This Tuscaloosa web design firm offers web design, branding, and online marketing.
The website is full of information – but keywords are stuffed everywhere. I'm all for internal links but it was tough to read a paragraph when every other word was a hyperlink. Even worse, the footer is just crammed with keywords – which appear to be there for SEO purposes only.
The website gives a little insight into the owner, but there aren't many videos or images of the team besides on the initial About page. At times, the website seems to lack personality or a reason to feel emotionally attached or wanting to work with them as people.
A huge positive is their transparency in pricing and deliverables. They also do a great job answering questions on why you should get a website and use their services. Pricing and process are very clear and made me feel comfortable if I was choosing them for my project.
There were a few broken features of the website (questionnaire links) and their portfolio was being "updated". Their last blog post was 2017 – which is never a good sign for a company promoting SEO or content marketing.
Cahaba Creative
Search: #1 on Bing (organic) for "Web Design Firm Alabama"
Location: Birmingham, AL
Website: cahabacreative.com
Preferred CMS: Accrisoft
Price Range: Unknown
Mobile PageSpeed: 87
Google Reviews: 5.0 (1 reviews)
It's difficult to fully judge because I imagine the desktop version of the site is better – but Cahaba Creative's website is a bit to be desired on my mobile phone.
Cahaba Creative didn't have a great start. I noticed there wasn't an SSL certificate – which should be standard for any company selling web design services. Maybe they just let it expire temporarily, but even if that's the excuse, I would worry about structure.
The team page listed the members but used silhouettes instead of actual faces. It was a nice Mad Men artistic approach – but sometimes you just want a smiling face. One member was listed as a Flash Designer. This page either needs updated or his resume does.
There wasn't much information on their process or pricing. They did promote their CMS called Accrisoft. I'm guessing it's their homegrown system, which I always give props to teams talented enough to pull off a custom CMS.
Bizeeo
Search: #2 on Bing (organic) for "Web Design Firm Alabama"
Location: Montgomery, AL
Website: bizeeo.com
Preferred CMS: Unknown
Price Range: $3,000
Mobile PageSpeed: 70
Google Reviews: 4.9 (57 reviews)
Bizeeo is a digital marketing and web design company that truly understands what's important for websites in modern times – being found on search. This Montgomery web design firm offers a great deal of information on their website and it's easy to see why they are a viable option for Alabama residents.
I appreciate the content and attention to common known SEO tactics. Although I'm not sure if I needed to know the history of Alabama on their about page, it wasn't a huge distraction. The design seemed a bit like Wikipedia and I would have loved to see a bit more design, color, or imagery. I did like their use of footnotes instead of hyperlinking entire words.
Bizeeo hits the nail on the head with their prices page. They give you their prices, deliverables, and add-ons. It does seem like there is an option for everyone.
Their web design service page gives you a ton of information. They answer questions about anything and everything – making it easy for you to give them your money and business.
Web Design Agency Alabama – DuckDuckGo
DuckDuckGo might be the sleeper search engine, but it still can provide valuable results for web design agencies.
Mindvolt
Search: #1 on DuckDuckGo (organic) for "Web Design Agency Alabama"
Location: Athens, AL
Website: mindvolt.com
Preferred CMS: Unknown
Price Range: Unknown
Mobile PageSpeed: 60
Google Reviews: 3.0 (2 reviews)
Although this website is beautiful and stunning, I'm slightly surprised by how they managed to get a top rank with a "one-pager" website. Web design is just a small mention on the homepage – yet they snagged a spot on DuckDuckGo's SERP.
Mindvolt focuses on their work. Besides the homepage, all other pages were portfolios with images and branding samples. There is no question that this advertising firm does branding well. Their projects speak for themselves – which is great considering there's no text on most of these pages.
I wasn't going to spend the time searching through each portfolio item to see which project included web design. I'm not sure about their process, pricing, or even expertise. They have a nice website, but there is no reason for me to believe this is their focus.
Zenogram
Search: #2 on DuckDuckGo (organic) for "Web Design Agency Alabama"
Location: Hoover, AL
Website: zenogram.com
Preferred CMS: Various
Price Range: Unknown
Mobile PageSpeed: 92
Google Reviews: 5.0 (18 reviews)
Zenogram is a digital marketing agency that specializes in e-commerce. It's very clear that they are not exclusive to a specific CMS or platform – advertising services for WordPress, Shopify, and SquareSpace.
The website is built as an e-commerce store. When you want to learn more about their products, they are listed as a grid and you can request a quote. This is great for seeing exact prices and deliverables, but they don't really engage on why someone would want to work with them.
I wasn't able to find information about the team or the company. I was expecting information about the services when I clicked on the main navigation menu, but several links just redirect back to the homepage.
The About page link in the Navigation was broken and the blog had two entries from 2017. After trying a few other links and returning a #, I gave up.
Red Sage Communication
Search: #3 on DuckDuckGo (organic) for "Web Design Agency Alabama"
Location: Huntsville, AL
Website: redsageonline.com
Preferred CMS: WordPress and HubSpot
Price Range: Unknown
Mobile PageSpeed: 51
Google Reviews: 5.0 (20 reviews)
Red Sage Communication is a full-service agency big enough to service anyone in the state of Alabama. Red Sage has an impressive website – full of information and personality.
My search is simply for web design. They offer a variety of services and appear to specialize in multiple CMS platforms – including WordPress and HubSpot. Red Sage didn't link to any web work on the service page, so it's tough to gauge their quality or possible price.
They list out their team with pictures and full bios. They add a touch of personality to each bio with favorite quotes, fun facts, and credentials. Red Sage Communications have specialists and generalists – which makes me feel confident they can handle it all.
Their blogs, although labeled as 'advice', seemed to be more PR updates than actual advice or thought pieces. I did find several 404 pages as I tried to click on some links from the service pages. Some quick fixes and it would be tough for me to find too many flaws on this site.
Top Web Design Companies Alabama – Clutch.co
Clutch is a popular directory for web design and other digital specialists. Clutch.co is often found at the top of any SERP, so let's see who tops their lists.
High Level Marketing
Search: #1 on Clutch for "Top Web Design Companies Alabama"
Location: Montgomery, AL
Website: highlevelmarketing.com
Preferred CMS: Custom CMS
Price Range: Unknown
Mobile PageSpeed: 28
Google Reviews: 4.5 (19 reviews)
This full-service agency focuses on all things digital. It was very apparent from the homepage that they are not just making websites. This agency wants to stick around and help you own the internet.
You can tell they practice what they preach. There are call-to-action buttons scattered everywhere on the site. Whether you want a free SEO analysis or Free Strategy Session, they want your contact information.
Front and center on most pages are effective client testimonial videos. I sampled a few and they were nicely produced (maybe they do web videos in-house also).
It's clear that they are not making WordPress websites, as they go into detail about why their patented MYCE system is the best alternative.
Although it looks spammy (SEO Company for "Industry"), their industry listings in the footer provided easy access to see what clients are important to their business. The specific pages were quite excellent – customized for the industry with portfolio examples and testimonials. I love how they give a ranking for tactic importance based on the industry.
There weren't any prices or indications of price points for any services. This didn't look like a mom-and-pop shop – so I would figure they charge top dollar for their expertise and proprietary software.
The Nine
Search: #2 on Clutch for "Top Web Design Companies Alabama"
Location: Tuscaloosa, AL
Website: nine.is
Preferred CMS: Custom CMS
Price Range: $5,000+
Mobile PageSpeed: 31
Google Reviews: 4.9 (16 reviews)
The Nine is a local web design company and digital agency with several locations in Alabama. Throughout the site, you will see references to the number nine. The origin of their business name is unclear or hidden away on an internal page.
The website is easy to navigate. One feature that stood out was the accessibility toggle. Users can turn on and off functions to make their browsing a more enjoyable and accessible experience. They also provide a chat feature directly opposite the accessibility button.
The Nine makes fully customized websites. They name their custom CMS Caboose, which is a nod to the programming language Ruby on Rails. The Nine provide you with an instruction manual and allow you to make changes to the website on their custom backend editor. They make mention that their CMS is built with SEO in mind – which is important for any business wanting to show up on Google.
The Nine breaks their process into three steps – content and strategy, design and development, and digital marketing. They have a team that specializes in each phase. The website gives you access to each team member and their profiles.
The website had personality but lacked an emotional connection. A few videos from the team or testimonials from clients would help you connect with the company.
Zellus
Search: #3 on Clutch for "Top Web Design Companies Alabama"
Location: Huntsville, AL
Website: zellusmarketing.com
Preferred CMS: Unknown
Price Range: Unknown
Google Reviews: 5.0 (19 reviews)
Zellus didn't do a great job making a first impression. Upon the first load on my iPhone, the hamburger menu didn't work. All of the images were blurred – as if it was done on purpose for mobile loading. I appreciate the focus on speed, but it would less distracting to hide the images entirely.
Zellus offered proof that they were "Huntsville's top marketing company" by placing a link to Google with the auto-filled search term "Huntsville Marketing". Sure enough, they had the top GMB rank and Organic.
I struggled to navigate the website. I was able to browse the homepage and links attached. It appeared the FAQ feature wouldn't expand – this the questions never being revealed or answered.
The website seemed to be fully optimized for SEO but failed at worrying about the user. The web design page explained why having a fast, secure website was important but didn't discuss their approach or process.
I gave up looking for a team or personal information. This was a healthy reminder that people want to see the people they are working with.
Who is the Best Web Design Company in Alabama?
The reason search engine companies focus on perfecting their algorithm is so they ensure they provide the best results. Users want to trust these results, especially when it comes to finding the "best", "top", or #1. It's unlikely someone looking for a local web design company in Alabama would search the whole state (more likely the surrounding metro), but we would think that I would have had the top 12 in the state to choose from.
The top web design company I found was: High Level Marketing.
There were several companies with beautiful designs, several with great content, and others that were fully optimized. High Level Marketing did the best when it came to customizing each page to what I would want to see as a consumer. Their video testimonials and specific industry pages, mixed with personality and actual faces made it easy for me to decide I would trust this company.
What I Learned from Browsing Alabama Web Design Websites?
This was my first "state" to review. I was seriously surprised by some of the results. There is no doubt that there are better companies out there that haven't maximized their visibility in Alabama. I would suggest anyone that is searching for a local Alabama web design company to do a similar exercise – but in their actual city or metro. But then again, you should want a web design company that understands SEO and can get themselves ranked in the top 3 of your local results.
Besides a few features I will absolutely "borrow" for my website, I realized that I don't show enough of myself of my freelance team on the site. Although I don't think people need to know the name of your dog or favorite rock band, just seeing someone's face makes you feel more comfortable with a brand.
Videos also make a huge difference.
Does Having a Local Alabama Web Design Company Matter?
Eric Hersey Web Design is a 9-hour drive and nearly 600 miles away from the tip of Alabama. Having someone local might make a difference for your business – or it might not. You have to ask yourself what matters most?
Are you comfortable with Zoom or phone meetings?
Is the cost of living in your city lower than the cost of living in Wheeling, West Virginia? (This is how a lot of web design prices are made.)
Do you need someone to physically take pictures of your business?
How good are you at communication?
I really enjoy working with local businesses in the Upper Ohio Valley (West Virginia, Ohio, Pennsylvania) but understand that making websites is not limited to your local service area. I've made websites for individuals in nearly every state and for various budgets. I've also turned down jobs when I knew they needed a local designer to fully execute their ideas.
There are certainly Alabama web design companies listed that I would feel comfortable working with. Some of the companies vary in strategy and philosophy. Others are spot on but might be a bit overpriced.
If you are looking for a web design company in Alabama but can't find what you are looking for – maybe a Web Design Company in West Virginia is your answer.
Let's chat today and I can help you decide if someone from this list is worth a call.