Almost every client I talk with asks to rank #1 on the search engine results page (SERP). The first position is as good as it gets – right?
What if I told you we can get you to position 0?
Is Position Zero a Thing?
Position zero (also referred to as a featured snippet) is the content indexed at the very top of the search results page. For all you die-hard SEOs reading my blog, yes – I know, position zero is dead and it's called #1 again.
Back in 2014, Google started listing 11 organic results on the first page. Zero was the featured snippet and then ten regular results. That has since changed back to 10, with #1 being the featured snippet. But let's be real – position zero sounds way cooler.
What is a Featured Snippet?
We have all seen them. When you head to Google and ask a question – you get that nice box at the top with the answer. Sometimes it's a single answer. Other times it's a bulleted list. Usually it's a paragraph and a link to the webpage.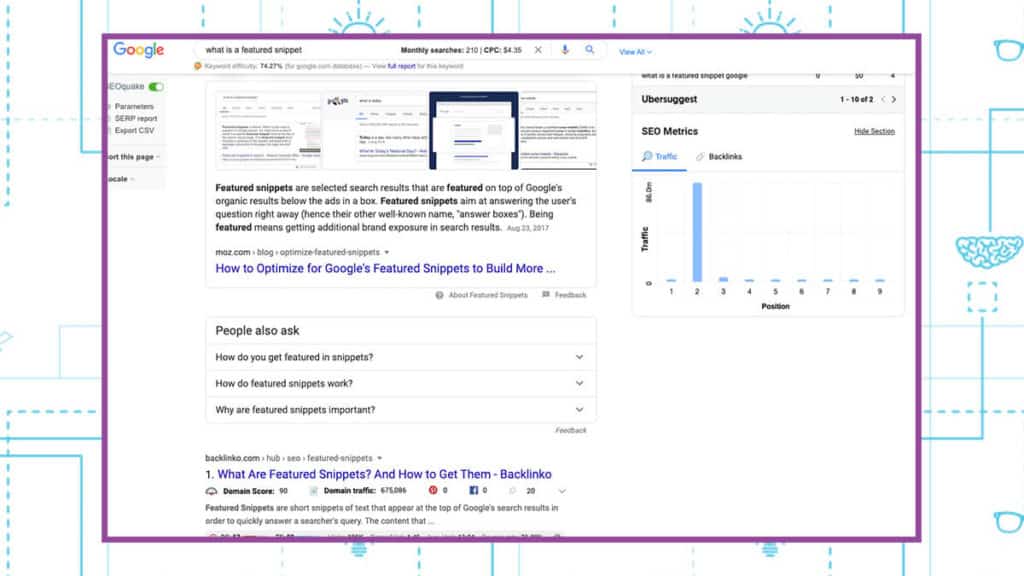 Getting this valuable position can do wonders for your brand and your website. It's up for debate if you would rather be the featured snippet or the organic first position, but I wouldn't complain about either. Studies show the increased value when you rank higher on the first page.
Fear of featured snippets come from many website owners. This is mainly because users are getting their answers and never visiting the website. If you are making money from page views and clicks, you want this traffic. But – you also can't put a price tag on the value of being an authority.
Since I work with many advertising agencies, I know the power of billboards, television, and radio. These media platforms don't let you click. Yet, having a big old logo on a billboard does show some authority. You might get a call or direct website click later because of that perceived value. It probably took me months to actually click on Neil Patel's website, but I knew who he was because he would always show up as a featured snippet. Before even reading, listening, or watching his content – I knew he was an authority in digital marketing.
Featured Snippet Impact Because of Conrad Thompson – Wrestling Podcaster
If you have been following along since December, you may remember a lengthy recommendation on Conrad Thompson's Wrestling Podcasts. December was a free-for-all month where I just listed my favorite podcasts. They had nothing to do with web design or search engine optimization. I wasn't trying to get more traffic or rank for any specific terms – just share with the world my favorites.
Turns out, a lot of people like Conrad Thompson and search his name. It also turns out that there were very few articles on the internet dedicated to Conrad Thompson. Since I created an entire post dedicated to Conrad and his five wrestling podcasts, I started seeing his name in my Search Console reports.
Google Search Console Impressions and Clicks
Have I covered Google Search Console on the site yet? Not really. I mentioned it in several blogs and even talk about how you need to link your account to Google Analytics. Maybe this will be covered in a different Focus of the Month.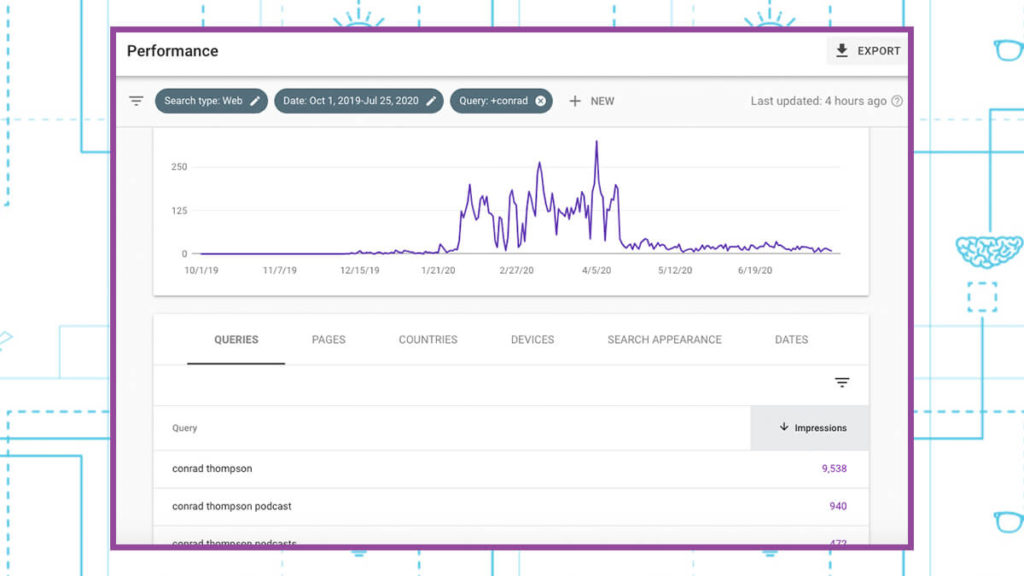 In short, Google Search Console shows you most of the keywords and queries landing people to your site. Even if they don't click, it gives you a count of impressions (times your website was listed/viewed). You can use this data to help you understand what you are indexing for and where the low-hanging-fruit are.
Getting Conrad Thompson Podcasts Featured Snippet
A great way to get a featured snippet is to answer a question. Usually you want to have a question in a heading and answer with about 40-50 words. Be direct and if it's the best answer on the internet, you might win yourself a featured snippet.
You can also win a featured snippet by having a list. Sometimes its a simple list with bullets and others it's the format of the page with headings. I wasn't trying to win a bulleted list featured snippet, but I did.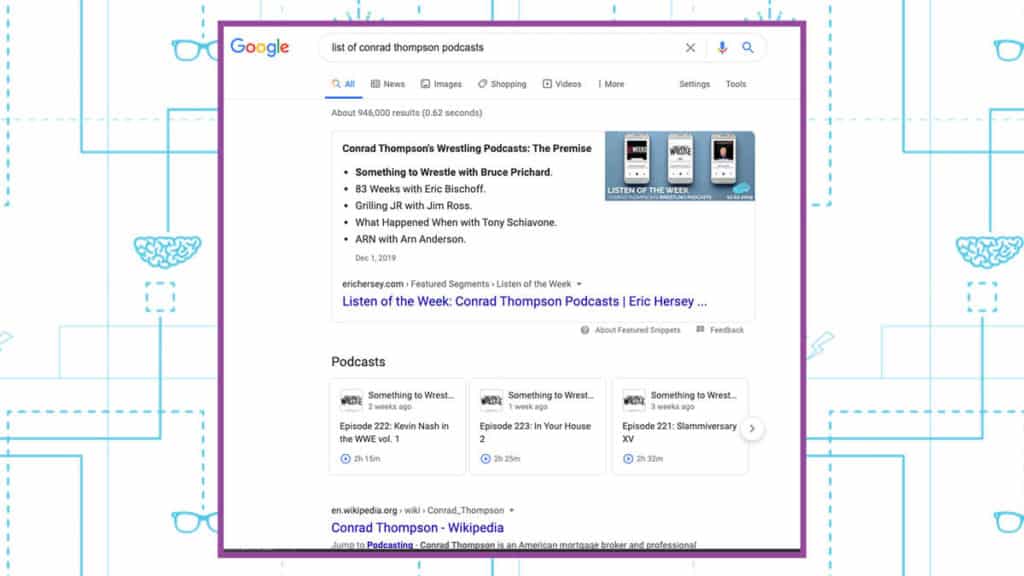 Notice, this is a list.
You can also notice that my page was not a list.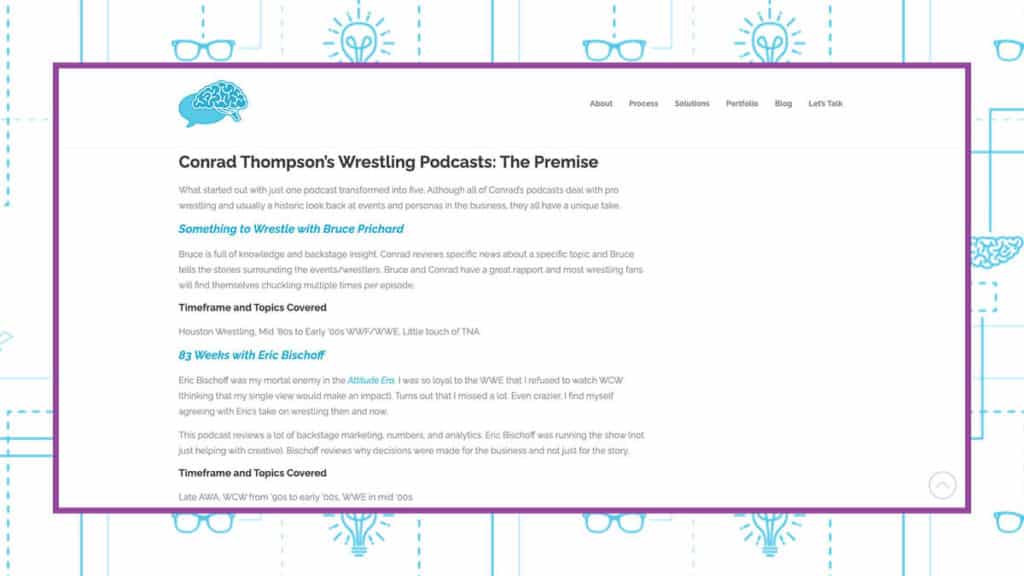 It was headings – followed by a description. Google was smart enough (based on my structure) to make this a list for the users.
Impact of Earning a Featured Snippet
Besides the fact that I get a few random visitors per day because of that position on Google, you can see a significant jump in impressions on Search Console.
At one point I was actually ranking for the name Conrad Thompson on the first page. That same month I started ranking for Conan O'Brien's podcast and Jim Hill. I guess I have a lot of authority when reviewing podcasts.
Now hopefully I get that same authority for Web Design, SEO, and Digital Marketing.
The Premise of SEO in the Shed
I discovered SEO in the Shed like every other podcast. Although I search for SEO podcast's monthly, his episode on SERP and Rich Snippets grabbed my attention.
Jon Earnshaw's video series, SEO in the Shed, can now be enjoyed wherever you get your podcasts! Sharing his musings, insights and takeaways with you from the comfort of his garden shed!

SEO in the Shed on Apple Podcasts
I'm always up for more SEO podcasts in my playlist.
Why Did I Pick a Podcast about "SERP Featured Snippets"?
There does seem to be a science to earning Featured Snippets. Competition really does play a huge part, but using best practices will certainly help. More importantly, schema makes a difference. The more you tell the search engines about your content, the more likely they will use this for featured snippets.
I glossed over another key topic (and we will cover more in the future) but that is knowledge panels and rich snippets. Schema adds elements to your search results (like star ratings, images, recipe data, etc…) and this all comes from schema.
Having your result show up in position zero, position one, or just stand out will help drive traffic and results.
The Podcast: "Boosting your presence in SERP Features with Schema Markup"
There is some nerdy talk – but what do you expect from a podcast about Schema. Enjoy.