Part of my job is to search online. I often check where I rank for "web design companies near me". The term Near me is relative.
What "near me" is the most important?
My guess was Wheeling.
Am I right?
Where are you from?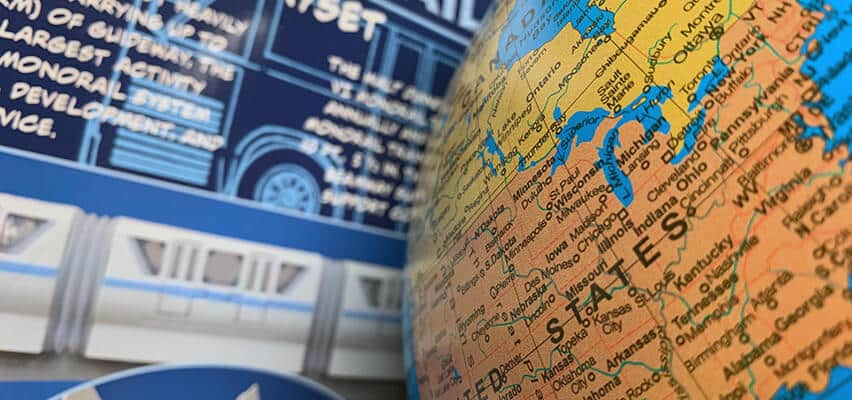 My Walt Disney World obsession occasionally lands me in a monorail with strangers. On our trip to the Magic Kingdom, small talk ensues. Usually, my wife takes over and I just smile. It doesn't take long before someone asks –
Where are you from?
You need a flowchart for the possible way to answer this question.
If the guest is from Ohio then answer Steubenville.
The guest is from West Virginia then answer Wheeling.
If the guest is from the other 48 states then answer near Pittsburgh.
If they ask before you ask, start small and work your way up. Usually, you end up saying you are from Pittsburgh.
Should people know where Wheeling West Virginia is?
I was curious to see what city had the highest population in the Ohio Valley. After visiting several websites, Wheeling is our leader with 28,000+. Weirton and Steubenville have 18,000.
Any idea where Wheeling ranks for a population in the entire United States?
Not in the top 1000.
I sat in my car one afternoon while my wife was shopping at the Ohio Valley Mall and searched and searched for a complete listing of the United States city populations. I started with the top 500. No Wheeling. Top 1000. Wheeling wasn't even in the discussion. I couldn't find anything beyond 1000.
I found one list that had at least one entry per state. West Virginia had an asterisk and only included Charleston so the state wouldn't be excluded from the list.
So the answer is – no, people around the United States have no reason to know where Wheeling is.
Website Companies and Website Design Opportunities in Wheeling
The entire Wheeling-Steubenville market has a population* of 560,000. This is equivalent to Bridgeport, Connecticut – which ranks 179th. If you are a stand-alone (website) business, Wheeling might not hold a large enough population to acquire enough local business.
*It's difficult to get the exact population number for the Ohio Valley so I used Google Ads reach metric for the DMA. I found the closest city with the same type of reach.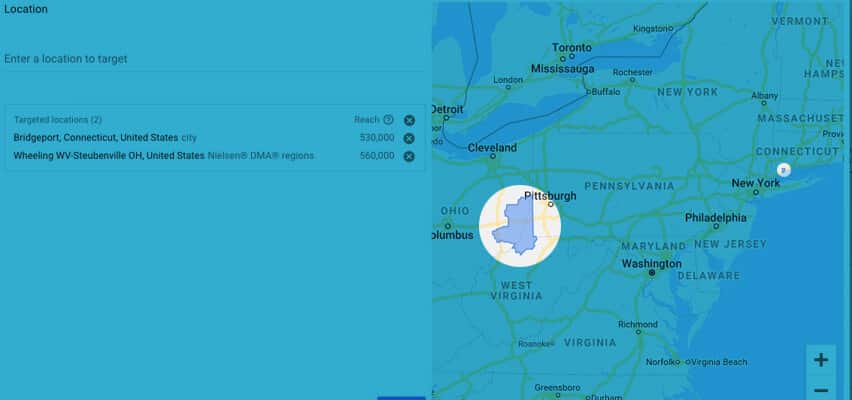 Granted, there are plenty of mom and pop businesses that need websites, but it's increasingly harder and harder to compete against the drag and drop website makers advertising everywhere. Selling the value of hiring a freelance web designer or web development agency is hard unless you get some facetime with the owners. To do this, you need some type of salesforce.
The best case for getting a meeting is them finding you. To do this, you have to rank on search engines. When a business owner types "web design companies near me", you hope you are found on that front page.
Unfortunately, web designers don't have to be in Wheeling to rank. Actually, a ton of companies outside of the Ohio Valley know how to rank for cities they aren't stationed. Since web designers work remotely, they steal a ton of local rank by keyword stuffing Wheeling in their service pages.
Keyword Stuffing for Wheeling
Google "web design companies near me". Go ahead. I'll be right here when you get back.
Are you surprised to see how many local web design companies you have in your "city"? Yep. I am too.
What a lot of companies will do is take their service page and just add a location to the end of most titles and headings. They duplicate the page and change the city name. If they are smart, they make sure Google knows this is duplicate content to avoid penalties. Sometimes Google allows these pages to rank and other times they never see the SERP (search engine results page). Some of the major web companies out there create pages for every major city – even our little Wheeling.
Real Wheeling Web Design Companies and Freelance Web Designers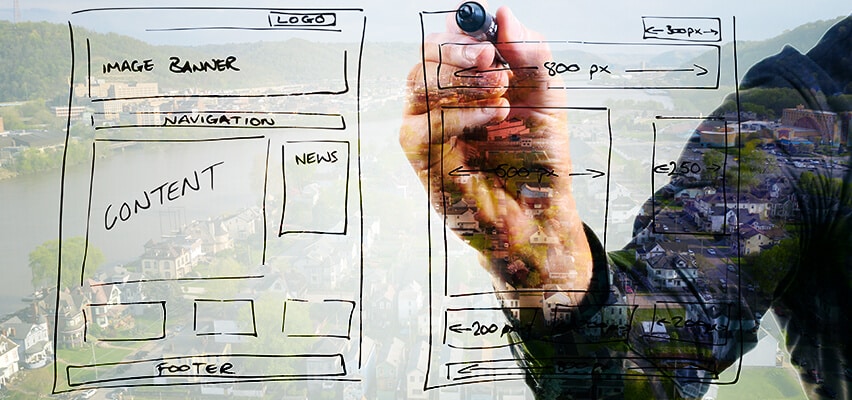 Yes, I understand I Am going to give you direct access to a list of competitors. To be truthful, I work alongside many of these companies (from time to time).
Most of us have a niche and a reason why you would choose one over the other. Some companies won't take clients that spend less than 10k. Others only want to work with brochure websites.
One thing is for certain – I would rather see a local company get the business than an owner being fooled by the "keyword stuffers". I know many of the local business owners want to shop local. Let me save you time and avoid pointless clicks.
Web Design Companies
TSG
Technology Services Group may be the most well-known company in the Valley. They have an office in Wheeling (The Highlands) and right across from the movie theatre. They are known for web applications and handle far more than just web development.
Direct Online Marketing
As stated in their name, they handle marketing. You typically see their name when you are looking for PPC (pay per click) or SEO. I'm not sure if they build from scratch, but often companies are looking for an overhaul or redesign. They offer this to help with search optimization.
Mobilize 360
I've just heard of this group within the last year. Based out of Weirton, they are pretty close to Pittsburgh and probably gobble up some of that traffic. From the work I've seen, it was good.
Neue Web Design
I've stumbled across their website when doing some basic keyword research. They have to compete with a New York fashion company named Neue in many branded search, but being located in Wheeling is a plus for search traffic.
The Ridgefield Group
I've worked with several members of the Ridgefield staff over the years and they have always been pleasant and easy to work with. I know they do a lot of hosting solutions, but also make websites.
Web Design Agencies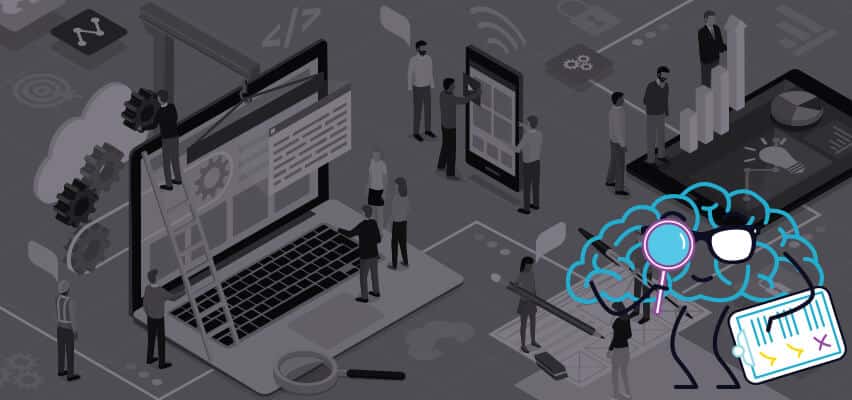 Wheelhouse Creative
If you are not familiar with the brand, you are familiar with the clients. Wheelhouse Creative has been around for several years and has produced some very prominent websites over the years.
Em-Media
I am no stranger to Em-Media. I was part of their web development division for a while and continue to work along with them for various web projects. Take a look at my portfolio and odds are you will land on a project we collaborated on.
Tim Pierce
Tim Pierce was one of my earliest partnership gigs in web design. I created several websites for his clients when he first started. Now, many years later, he provides websites and digital work.
Beyond Marketing
Although I'm familiar with the name, I am not familiar with the work. Beyond Marketing lists their web work on their website – but at the current time of posting – the site isn't mobile-friendly. Maybe this is in the works and worth a contact.
Freelancer Web Designers or Single Person Companies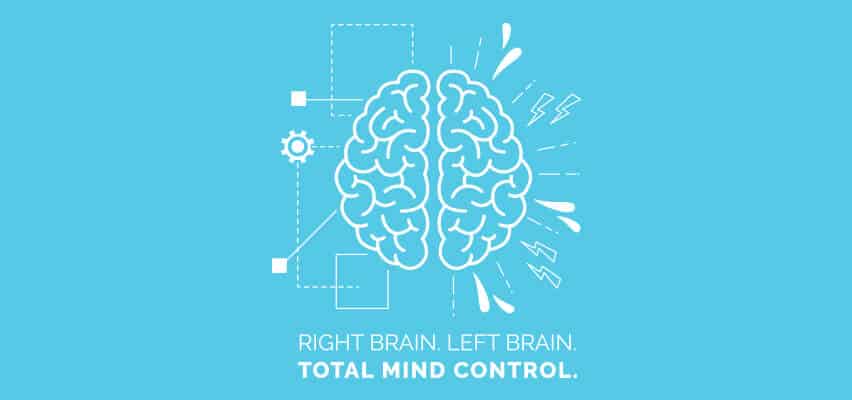 Hello. This is where I fit in. I won't leave a paragraph. Instead, you can click the about button or services.
Lucy Defruscio
I worked with Lucy on several projects and she is a great digital marketer. She has helped a lot of local businesses get their websites off of the ground and someone I would endorse.
Phil Morris Web Design
I've never met Phil and he might actually fit in a different section (Not sure if he is a one man band or not). One thing is for sure – he is local.
Healthy Options for Web Design in Wheeling
For the select few that search for web design, there are affordable answers to your website problems. I'm not 100% opposed to the Wix.com/SquareSpace solutions – but I do think you should weigh your options first.
Yes, you can set up your website in minutes. The marketing is correct. You can't, however, know if this is a better cost unless you talk to a local web designer.
If shopping local matters to you and you don't want to do it all on your own (with a website builder), check out some prices and get some quotes from the local Wheeling folk discussed in this article. Avoid the "local lookalikes" on the search results page and bookmark this page for your real local results.
PS: The only keyword stuffed on this page is Wheeling. Wink.