Finding the best web designers and web design companies in Alaska takes a little bit of research and a lot of browsing. As part of my ongoing series, I took it upon myself to find the top web design agencies in Alaska – while browsing from West Virginia.
The Rules: Reminder
I'm not reviewing every single website provided for web designers in Alaska. Instead, I will use popular search engines and highly sought search terms.
Google – using the term "Best Web Design Company (state)"
Bing – "Web Design Firms (state)"
Duck Duck Go – "Web Design Agency (state)
Clutch.co – "Top Web Design Companies (state)"
Since mobile design and browsing are important, I'm reviewing all of these sites on mobile.
Other things to consider:
Speed
Reviews
Functionality
Originality
This is part of my ongoing series – Best Web Design A-Z
Alaska: The State
As we journey to The Last Frontier, we start to explore some of the best (and possibly worst) web design companies that come from the 49th state to join the US. Just because Alaska is bigger than any other state doesn't mean it has the most web design companies. Alaska ranks 48th in population – which means it might have the least need for designers.
Alaska's population is just over 700,000. But who needs people? Alaska has over 3 million lakes. Alaska also has the largest forest in the United States – Tongass (Juneau, Alaska). Did we say Juneau? It was awfully surprising that the state capital didn't have many web design companies. Well, I guess having a city that's not accessible by automobile might cause that.
Alaska is a beautiful state, known for gold mining, homesteading, fishing, seafood, and the outdoors.
Will Alaska be known for its Web Design? We will find out.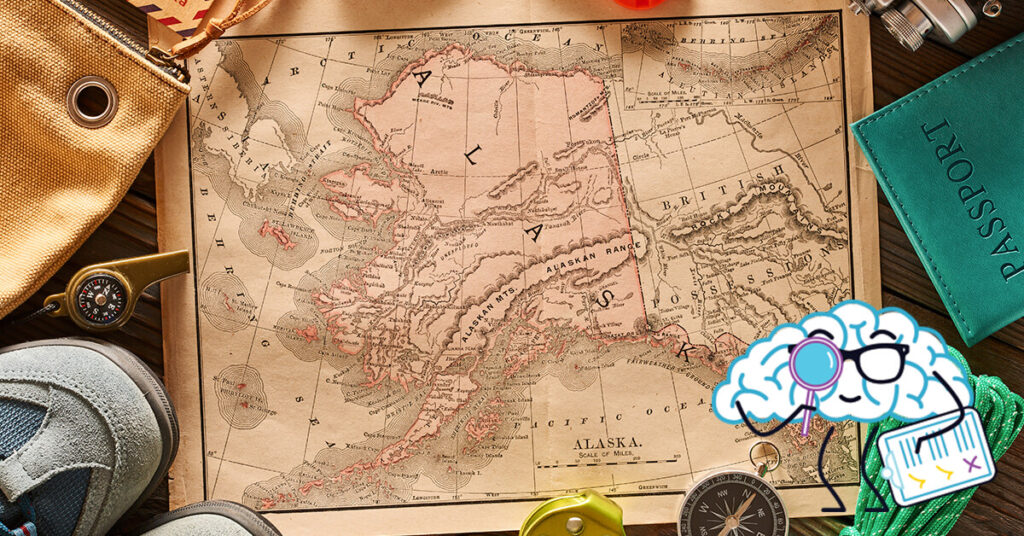 Best Web Design Company Alaska – Google

Google results provide the Google Business Profile Map Pack and also organic results. We won't be looking at Google Sponsored Ads or any informational results – simply web design companies.
Sundog Media
Search: #1 on Google Business Profile for "Best Web Design Company Alaska"
Location: Anchorage, Alaska
Website: sundogmedia.com
Preferred CMS: WordPress
Price Range: $8,000-$20,000
Mobile PageSpeed: 64/100
Google Reviews: 5.0 (47 reviews)
Sundog Media put together a really nice mobile website that was easy to navigate and quite informative. Sundog Media has been in business since the 90s and appears to be a family business (husband and wife). They have their clients front and center. They are proud of their work and from a glimpse, they produce a good product.
One thing is for sure, they are direct with what they do and what they don't do. The page "Is Sundog Right for you?" answers the majority of questions most customers will have – including how much! Working with Sundog Media will cost you upwards of five-figures, with a turnaround time of 2-4 months.
Sundog Media makes websites and that's it. They explicitly state they are not creating logos or doing SEO work. It appears they will take photos, but their specialty is custom WordPress websites.
As for copy, they really don't talk much about how they can help you – the customer. You get plenty of quotes and information about their values, but you have to read between the lines to find out why you would choose them over a competitor.
At the time, they had all positive reviews on Google. They've earned their ranking by hard work and not by SEO tactics. There wasn't a ton of signs that they do any serious content marketing. They published their Constant Contact newsletters as blogs, but most were your typical "client launches". I fear they understand some basics of SEO (as they mention), but they might focus on design first and content second – which is not the way to rank high and earn new customers. Maybe they own the market and put that extra effort in their customers.
Bianca Frank Design
Search: #2 on Google Business Profile for "Best Web Design Company Alaska"
Location: Anchorage, Alaska
Website: biancafrankdesign.com
Preferred CMS: Unknown (Best Guess – WordPress)
Price Range: $1,500+
Mobile PageSpeed: 26/100
Google Reviews: 5.0 (30 reviews)
Bianca Frank Design's website was a little rough around the edges as a mobile experience. The website was fast enough, but there were several areas that weren't optimized for mobile (boxes too large, uncentered images, links to small to click). Most of these are forgivable, but certainly raises questions.
Bianca Frank Design gives general pricing on their contact forms. There's no explicit mention of the CMS they use to create sites. They offer more than websites – including SEO. They seem to blog a few times a month and they do plenty of internal linking (important tactic for SEO) – so I'm more confident in their SEO/content marketing services than their design services.
The biggest problem with the website was personality. I expected to see Bianca and get the vibe of her company. This should be done with imagery or video. The only glimpse of Bianca or the team was on About Page. Their doesn't appear to be a focus on imagery or photography, with the photos used being for headers all looking like stock images.
Bianca Frank Design say the right things, but there is a slight vagueness that would need cleared up with a conversation.
Alaska Web Studio
Search: #3 on Google Business Profile for "Best Web Design Company Alaska"
Location: Anchorage, Alaska
Website: alaskawebstudio.com
Preferred CMS: WordPress
Price Range: $700-$3,000
Mobile PageSpeed: 78/100
Google Reviews: 5.0 (8 reviews)
Alaska Web Studio makes custom WordPress websites. The company appears to be ran by one designer, who specializes in building websites from scratch (not using any premade themes). The website gives some information regarding pricing, quoting a one page website at $700 and the average site being $2,800.
The website doesn't build your confidence in getting a stunning design. The website was functional, but it seemed relatively plain. There seemed to be a lack of photos, with the only graphics being screenshots of recent projects. Knowing that imagery is a huge selling point for any website, the lack of photography throws up red flags.
Although the pricing, timelines, and competency seems acceptable, I would consider other options if the design is an important part of your brand.
Web Design Firms Alaska – Bing
Let's forget to use "best" or "top". How about we just find out what organic Bing results show up for web design firms.
Northwest Data Solutions
Search: #2 on Bing Local for "Web Design Firm Alaska"
Location: Anchorage, Alaska
Website: nwds-ak.com
Preferred CMS: Unknown (Best Guess – DotNetNuke, Joomla or Drupal)
Price Range: Unknown
Mobile PageSpeed: 80/100
Google Reviews: No Reviews
Northwest Data Solutions would not be my choice for a local web design company. It's apparent that they understand some SEO tactics, but apparent in the wrong way. Besides the fact they were listed on Bing as the company "Alaska Web Design" shows they are using some black hat tactics to manipulate the ranks. The obnoxious repetitive listing of Alaska Web Design (variations) in the menu was an obvious ploy to get their landing pages to rank.
There is no need to continue to review this website. I would not use this company.
Walsh Shepard
Search: #3 on Bing Local for "Web Design Firm Alaska"
Location: Anchorage, Alaska
Website: walshsheppard.com
Preferred CMS: Unknown
Price Range: Unknown
Mobile PageSpeed: 23/100
Google Reviews: 4.5 (4 reviews)
Walsh Shepard is an advertising agency that offers web design as one of their products. Their mobile website was clean, responsive, and visually appealing. The only problem – they gave us one paragraph about their web design service. That's it.
Walsh Shepard spent most of their online real estate showcasing client projects, that seemed to deal more with advertising and print. The one clickable service was digital marketing, but the page was filled with additional jargon and your typical advertising speak.
This client passes the visual test, but you will need to make a call and probably schedule a meeting to get any pertinent information.
AKSYS
Search: #2 on Bing (Organic) for "Web Design Firm Alaska"
Location: Eagle River, Alaska
Website: aksys.co
Preferred CMS: Unknown
Price Range: Unknown
Mobile PageSpeed: 81/100
Google Reviews: 5.0 (8 reviews)
AKSYS appears to focus more on website maintenance and SEO than total website construction. The website is mobile friendly, but doesn't appear to showcase a ton of local photos or originality. The menu lacks an About link, giving us very little information to go by about the actual people running the company. There is a blurb on the homepage about the owner, but that's it.
They don't list the prices for website, but they do show their prices for monthly SEO packages, which appear to be about $120 per hour. We don't know the size or time it takes to build a website, so it would be difficult to engineer a price point. We can request a quote via contact form, but we would have to wait for a callback or meeting to get our answer on price.
From searching the sitemap, they have plenty of doorway pages (the same page for different cities), so I'm not too sure if I would trust their tactics. This practice has been viewed as negative SEO for quite some time.
I found broken images, links, and even placeholder text on pages. These are some rookie mistakes, so I would probably check on a different provider.
Web Design Agency Alaska – DuckDuckGo

DuckDuckGo won't focus on local results in Alaska. Maybe we won't just see Anchorage businesses in the results. Let's see how the results pan out.
Weber and Company
Search: #1 on DuckDuckGo (organic) for "Web Design Agency Alaska"
Location: Alaska (Service Area Business)
Website: weberco.io
Preferred CMS: Customized
Price Range: Unknown
Google Reviews: 5.0 (6 reviews)
Weber and Company has the professional, easy to follow website that most customers want. They list benefits and needs of their customers front and center. They offer websites, SEO, and advertising options – so they are fairly close to a full-service agency.
It's difficult to know what they charge for their work. They offer customized websites and explain that they don't use templates. They also develop apps, so I imagine they would be on the higher end. But they speak the truth. It's obvious they understand the importance of building a site with strong copy and a focus on getting through to Google.
I would have loved to see some type of pricing or CMS information. My major flaws with the website was the lack of any new content since 2017! There also was not a single image of the staff or real people. It made me think this could just be a lead generation site targeting Alaska customers.
I would check out a few other online properties, but the website shows they could create a good product.
William Fraser
Search: #3 on DuckDuckGo (organic) for "Web Design Agency Alaska"
Location: Anchorage, Alaska
Website: williamfraser.com
Preferred CMS: Unknown (Best Guess – WordPress)
Price Range: Unknown
Mobile PageSpeed: 14/100
Google Reviews: 5.0 (3 reviews)
I really struggle when I see web design companies hit publish on their own sites when they seem half finished. William Fraser's website worked fine enough, but their website seemed like an afterthought. They provide a paragraph for each service and one paragraph on the about page. There was no sign of custom photography or local imagery.
William Fraser is a full-service agency and they provide samples of their work through their portfolio. They sound like most other marketing websites, without any real significant feature or function to make them stand out.
I would just expect a bit more from a company that specializes in web design.
Element Agency
Search: #4 on DuckDuckGo (organic) for "Web Design Agency Alaska"
Location: Anchorage, Alaska
Website: elementagency.co
Preferred CMS: Unknown (Best Guess – WordPress)
Price Range: Unknown
Mobile PageSpeed: 31/100
Google Reviews: No reviews
Element is the creative agency website you would hope to land on. It's the perfect balance of information, personality, and innovation. But then again, we could use a little more information. The website is basic – like less than 10 pages basic. They elaborate on their values and showcase their team, but you almost miss out on what they do.
It's very likely that someone shopping would have a general grasp on some industry jargon, but if not, the user would have to leave to site to get any context on what SEO or campaign building is. The only other real criticism is the annoying recaptcha logo that sat in the lower right corner. Hide this please.
I would be willing to contact Element, but they could probably save 15-minutes and 5 questions by giving us some more info.
Top Web Design Companies Alaska – Clutch.co
Clutch.co can be tricky. We are dealing with a directory and not all web designers optimize their profile or push for reviews. But, we should have at least three Alaska Web Design companies that optimize their account, right?
Beacon Media + Marketing
Search: #1 on Clutch for "Top Web Design Companies Alaska"
Location: Anchorage, Alaska
Website: beaconmm.com
Preferred CMS: Unknown (Best Guess – WordPress)
Price Range: Unknown (Best Guess – Five to Six figures)
Mobile PageSpeed: 52/100
Google Reviews: 4.9 (36 reviews)
Beacon Media + Marketing is dual location agency with an office in Alaska and Nevada. They offer far more than just web design and provide you plenty of information on all services. Not only do they list web design, they break each service down into development, hosting, and SEO – something other websites tend to fail. They do a great job promoting they "why" in their copy and don't just simply list their features.
It's difficult to say how they create their sites. There wasn't much information on the approved CMS or if the user can even update after development. With hosting and development, it's likely they make custom sites. Without direct pricing, the only clues come in the form of the contact form – asking if you make less than $1 million. I doubt you are getting a $1000 website.
Overall, Beacon MM does a great job at building your confidence from their site. The owners seem like experts, hosting a podcast and even talking speaking gigs. They showcase their staff and display their Google Reviews in their menu. If the price is right, they seem like a good company to help build your brand.
Off The Chain Web Design
Search: #1 on Clutch for "Top Web Design Companies Alaska"
Location: Anchorage, Alaska
Website: otcwebdesign.com
Preferred CMS: Unknown (Best Guess – WordPress)
Price Range: $4,000-$12,000
Mobile PageSpeed: 20/100
Google Reviews: 5.0 (4 reviews)
Off the Chain Web Design is a nice little website that utilizes video to effectively show social proof. The homepage provides testimonials and plenty of projects. The user gets a glimpse of the owner and there's no doubt this is indeed a company and not a lead generation site.
OTC offers web design and SEO. They list their prices on the website and give distinct features for each price point. Price is subjective, but the prices seem pretty high compared to other similar-sized websites. I'm guessing the designs are customized – as in made with original code and not templated sites using WordPress or popular CMS.
The high end websites offer video and photography. These services do make a huge difference, but the fact they are only offering 12 pages make me wonder how they can effectively offer SEO and limit the amount of pages. It seems like it can't be both.
Bear Star Web Design
Search: #1 on Clutch for "Top Web Design Companies Alaska"
Location: Haines, Alaska
Website: bearstar.net
Preferred CMS: Unknown (Best Guess – Drupal)
Price Range: Unknown
Mobile PageSpeed: 45/100
Google Reviews: 5.0 (1 review)
Bear Star Web Design sadly doesn't pass the "we left 2010" test. The website is nearly all text and looks like an old blogroll from WordPress. They give you plenty of information, but so does Wikipedia. When shopping for a web design company, we expect some originality.
There's no mention of a staff or the company about page. The site is just information about services, and not a ton of information on process or benefits for the customer.
I would hit up the search again and give Bear Star a chance to upgrade their site before they touch yours.
Who is the Best Web Design Company in Alaska?
Honestly, I was quite disappointed in most of the web design companies I found. No one really dominated and said "I AM THE BEST WEB DESIGN COMPANY IN ALASKA!". They all kind of sat around and said, "I have some nice pictures", "Well, I list my prices", "Hey guys, I'm just happy to be here. I stopped making websites years ago. Thanks for inviting me.".
As we go through the states (Alabama is complete), maybe we find that the amount of great web design companies really come down to population. Wyoming, you give me anxiety.
The top web design company I found was: Beacon Media + Marketing
Honestly, Sundog and Walsh | Sheppard were close, but Beacon seemed to really understand search engine optimization and overall web design better. One thing that made my head turn was that their owners took speaking gigs. This might not seem that impressive, but from an EEAT (Experience, Expertise, Authoritativeness, Trustworthiness) perspective, adding that line item made me really feel they were the experts. Not to mention, their website is solid.
It might be cheating, because they are only 50% Alaskan – but that still counts.
What I Learned from Browsing Alaska Web Design Websites?
Sadly, I don't think I saw any revolutionary ideas that I need or want to hijack for Eric Hersey Web Design.
There were a few things I was reminded:
We still like to see people (so many websites without a single REAL photo)
Tell me how you fix my problems. Stop talking about yourself.
You don't need to tell us everything about the software or process, but it wouldn't hurt to know the platform (WordPress, Wix, Drupal, Joomla, SquareSpace, Custom CMS)
Even poor speed scores with Google doesn't mean horrible mobile experiences (I didn't have a single issue with browsing any of these sites.)
Overall, I feel bad for some of the local Alaskan small businesses. There doesn't seem to be a ton of GREAT options. Even if you like the website (Element Agency, Weber & Co. , and Walsh | Sheppard), you will still have to talk to someone to get any prices or full details…and that is going to cost you time and money. Annoying.
Does Having a Local Alaska Web Design Company Matter?
Do I think you need an Alaska Web Design Company to build you a website if you live or work in Alaska?
Probably not.
Do I think you should just hire a West Virginia Web Design Company? No.
When I heard the the fun fact that you can't even get to the capital city in a vehicle, I realized that it might be tough to write content for a small business in Alaska. We would have to do some serious research and talking to make sure we understood the local market.
But that doesn't mean we couldn't do it AND it couldn't be a win/win for us and the Alaskan Small Business.
We would just make sure the client was willing and able to spend the necessary time to build out an awesome website – with awesome content.
Most of the time it doesn't matter where you get your website made. It really just matters that the designer and agency understands your goals and your target market.
If you want an experts opinion on a different local Alaska Web Design Company, shoot us a message.