Congratulations Edge of the Web – you are my first 2x podcast recommendation! I have been recommending podcasts weekly since September and haven't had a single repeat. Granted, I didn't need to focus on Edge of the Web again, but they deserved it by giving us a pretty fun episode (featuring a live website audit). More on that later…
When Do I Have Time to Listen to Podcasts
For nearly a year, I have one hour during the week where I am uninterrupted and in the 'zone'. I don't have a 2-year-old asking me to open up a new container of Play-Doh. Neither one of my older children are asking about homework, money, or device passwords. My wife is busy at work.
I am walking around Centre Market in Wheeling, West Virginia.
Piano Practice
My two children signed up for piano a year or so ago. Dave, the instructor, would come and visit their school in the early morning. This was a great opportunity to get the kids trying something new without having to do much work. We would get them to school a little early and they would practice. When the kids moved schools, we had to arrange a time and place for them to practice.
Dave meets at his church in Downtown Wheeling. This is only a block away from my wife's workplace and only minutes from the kid's schools (in Wheeling). It was easy for us to continue our relationship with Dave and keep them in piano.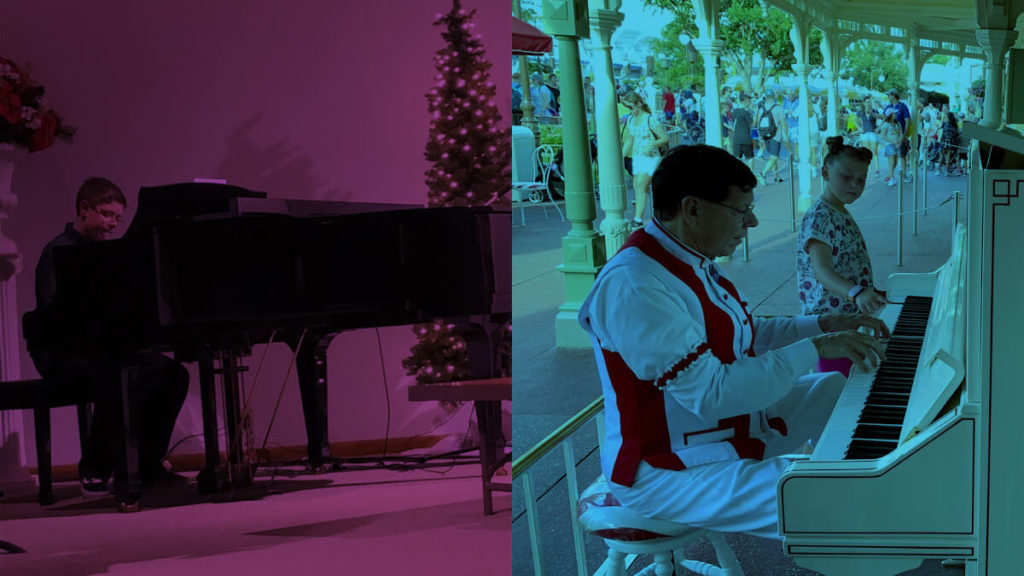 During this hour of practice, I could officially go inside and watch them practice. That might be the 'good parent' thing to do – but I prefer them having a little more independence. They don't need their dad hovering around and making suggestions.
Who am I kidding, I just want that hour of silence for my own.
Seeing the City of Wheeling
I have lived in the country for a long time. I forgot what it was like to actually walk around a neighborhood. When I grew up in Martins Ferry, Ohio, I walked everywhere. I walked to school. There was a convenient store right by my house. The downtown hub was only five minutes away. Everything I needed was within walking distance.
I remember walking around Ferry and looking at different neighborhoods. There would be a small barbershop on one street, a car dealership around the corner, and a resident bar just a few blocks down. Walking around Centre Market reminded me of those childhood walks.
At first, I would just walk around the main Centre Market building (where Coleman's Fish Market is). Four laps equals one mile. My Apple Watch would track my exercise and I would get 3-4 miles during my kid's piano session. After a few weeks, I decided to venture out. Next thing I knew, I was all over downtown Wheeling.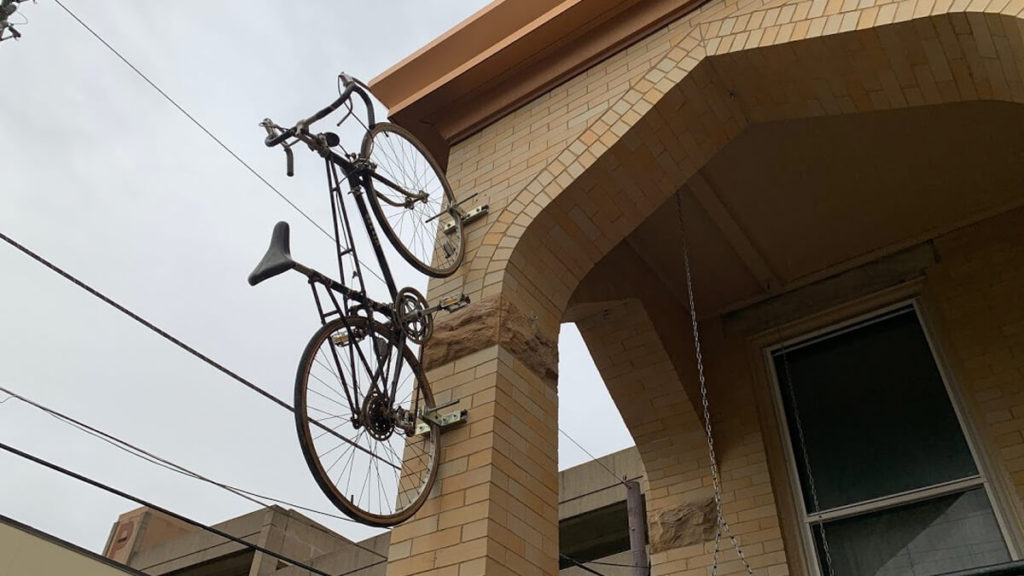 Being a Google Local Guide
Go figure that I learned about being a Google Local Guide from a recommended podcast months ago. I think the suggestion was made to show Google you travel around your service area and you are likely to rank for your business in these areas. No doubt I was going to try this hack!
After leaving a few reviews, I was told that I could be a Local Guide. I had no idea what that meant but I was open for it. In short, you get a little star on your name for your reviews and get points for doing specific tasks. By leaving Google reviews, uploading images, correcting misinformation, and adding locations – you get awarded by Google. What are you rewarded? I was hoping for a boost in my business rank.
Since I was walking everywhere, why not take pictures and upload them to Google Maps. Uploading a photo gives you additional points. I was hammering out images of Wheeling, Bridgeport, St. Clairsville, Steubenville, and every other city I stopped by. Even if I wasn't getting bonus points from Google, I was sure hooking up some local businesses with quality photos.
This has become a habit and a bit of a game for me.
Photos, Podcasts, and Live Audits
Wow, I apologize for the people that were coming here for information about Live Audits. You had to make it through a lot of nonsense about my walking escapades. As you can probably guess, I found a podcast about doing website audits while walking.
You are correct. As odd as it may sound, I very much enjoyed two grown men reviewing a random website. I distinctly remember walking down the street in Wheeling, snapping a picture of the Kennen and Kennen office, and thinking – is it weird that I'm listening to people talk about a website's XML sitemap???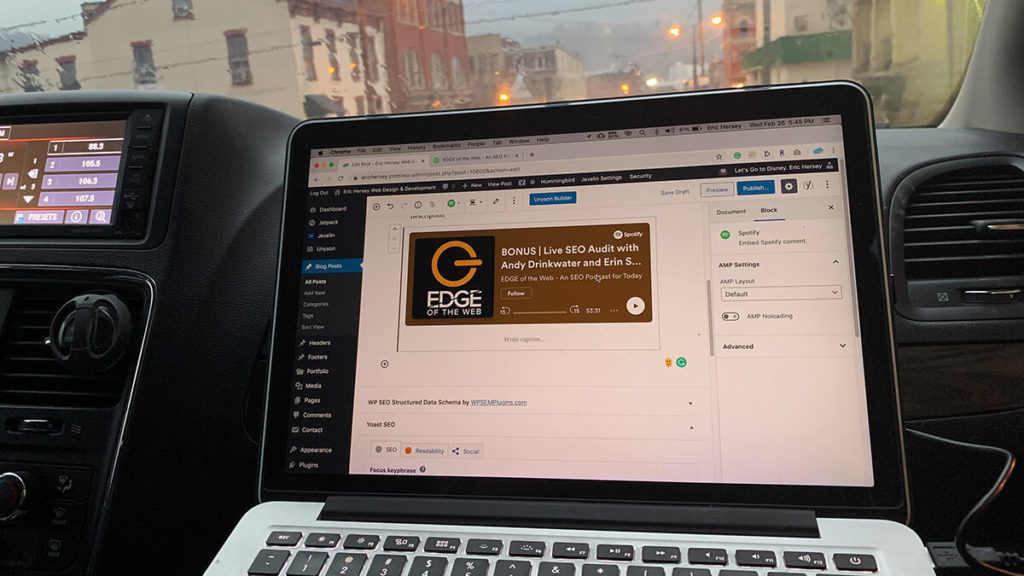 The Premise of Edge of the Web
I'm not going to hijack and copy the same information from my last recommendation, but it hasn't changed. The host brings on experts in their field and has an intelligent conversation. It's professional, sounds great, and informational.
Why Did I Pick a Podcast that did a Live Website Audit?
It was very interesting to listen to another SEO expert review a website. I know what I look for and what tools I use, but it's always great to hear someone else's opinion. A few topics covered were:
Pagination and various canonical errors
Duplicate meta titles and pages
Errors with website templates
SEMrush and backlinks auditable
Overall, I was very impressed with how they went through the site and explained what issues could be caused from their findings. This podcast is not for someone who is brand new to SEO or websites but is great for someone who is learning.
The Podcast: "Live SEO Audit"
This podcast is actually a follow-up. The host had his guest on a few weeks prior talking about a Website Audit checklist. This is a podcast where they actually use elements of the audit. It's fun for a walking SEO nerd like me.