When I do my Focus of the Month research, I listen to dozens of podcasts. I start like any normal human and search the keyword in my podcast platform. Then I download every episode related to the topic. I start listening, take notes, move to the next episode, take notes, and so on. I listened to a total of 20 podcasts and nearly half all featured Martha van Berkel. She must be the Schema Queen.
Who is Martha van Berkel?
Martha van Berkel is a Schema App co-founder. Schema App is a platform that helps end-users implement structured data on their website, without needing to learn code or be a developer.
Martha also indexes as an author for BrightLocal – an SEO tool for local businesses. She is also a co-founder of Hunch Manifest, a semantic marketing agency. Most importantly, she is a brand advocate for Schema Markup and hit up the Podcast circuit to increase our knowledge and awareness in schema markup.
The SEO Podcast Community
In the Ohio Valley, I have to fight every day to inform business owners and the general public that SEO is a thing. I doubt this is a problem in many of the cities across America. This is a great opportunity for me (being one of the few local SEO companies), but also a challenge to create my market.
Luckily I can piggyback off of some really smart individuals. Hundreds of SEO companies understand that podcast is a viable way to build their business and brand. This is why we have 50+ high-quality SEO podcasts to subscribe to. I follow many of the content creators on Twitter and absolutely love the generosity of the SEO community. They are forever sharing tips, tricks, and strategies. I think we all understand we are competitors but ultimately we just want the best product to show up #1.
Martha van Berkel hit the SEO podcast community hard. I didn't search for her name, but I'm pretty sure the search algorithm thought she was a synonym for Schema. After listening to one interview, I was really impressed and wanted more.
Martha seemed to pull new nuggets into each podcast she was on – so today I am going to recommend THEM ALL! I feel you have a better understanding of what Schema is from the last two weeks episodes: Schema Markup and Defining Schema Markup. I think you are ready for a hodge-podge of information.
List of Podcasts About Schema App featuring Martha van Berkel
In no particular order, here is a list of quality interviews and direct links.
The SiteVisibility Internet Marketing Podcast
Why Schema Markup is a Pivotal SEO Strategy For 2020: Interview with Martha Van Berkel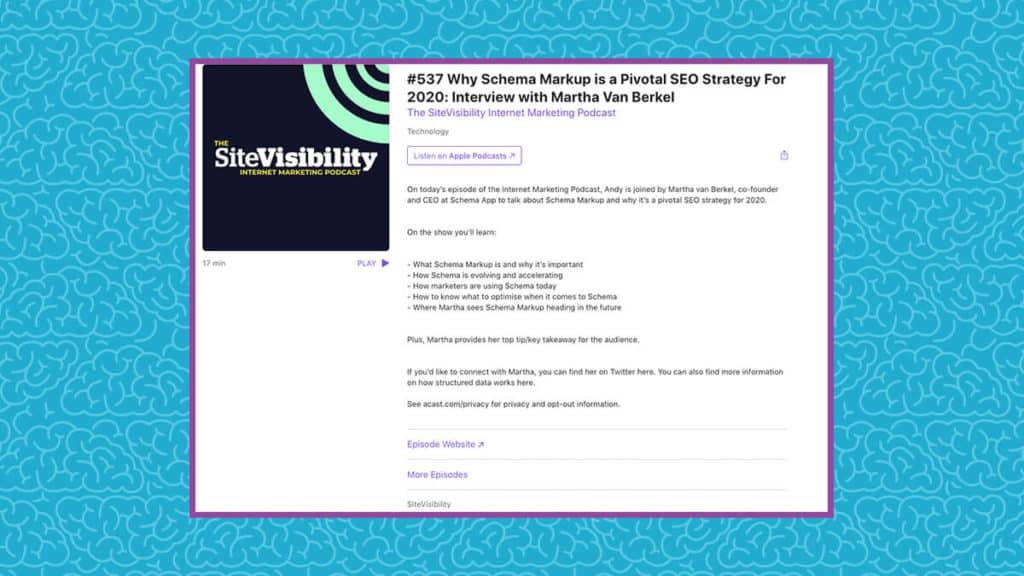 ---
The Page 2 Podcast: An SEO Podcast
#37: Martha van Berkel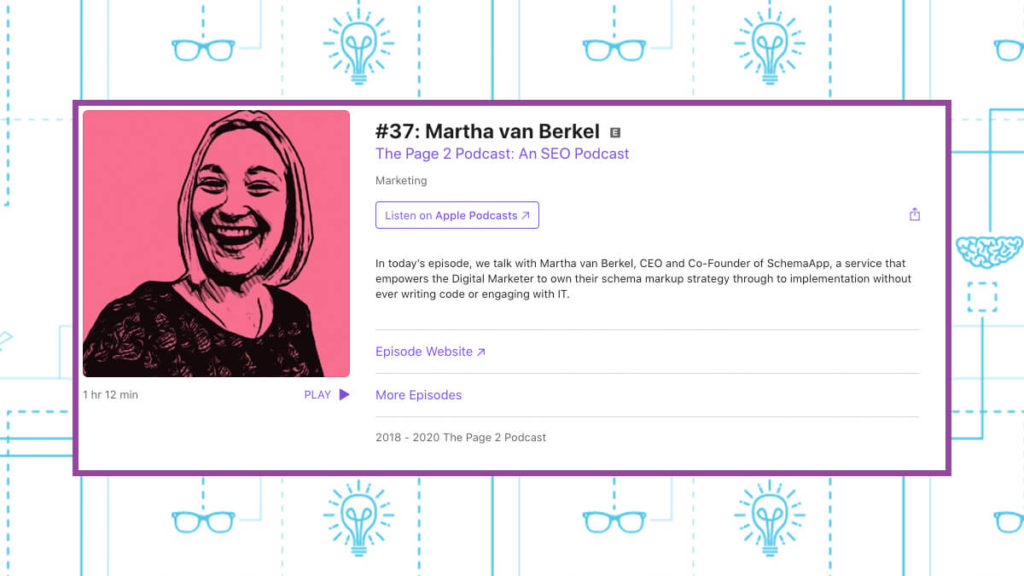 ---
Lunch Hour Legal Marketing
Optimizing SEO with Schema Markup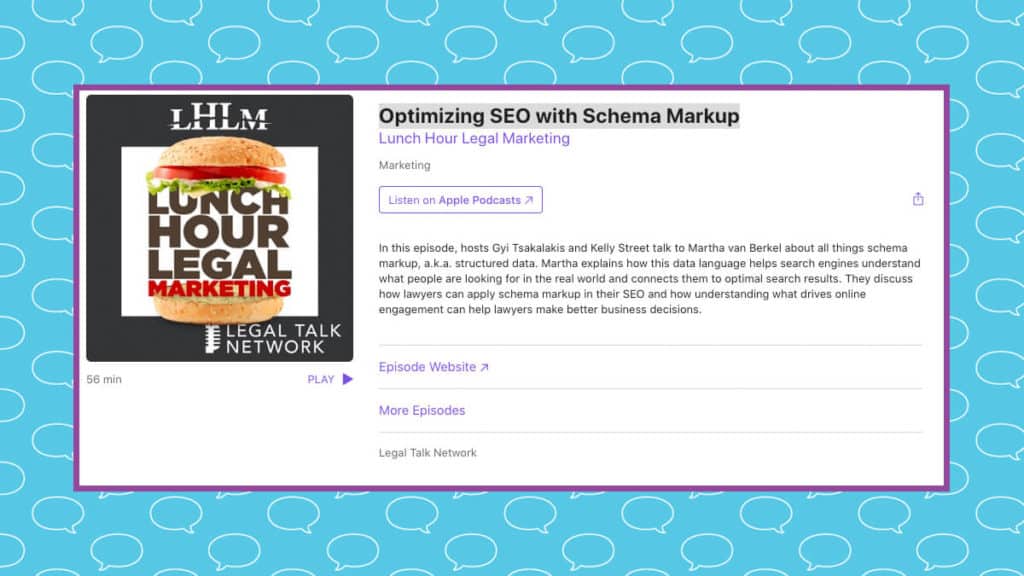 Local Marketing Institute Podcast
How Schema Markup Improves Your Local SEO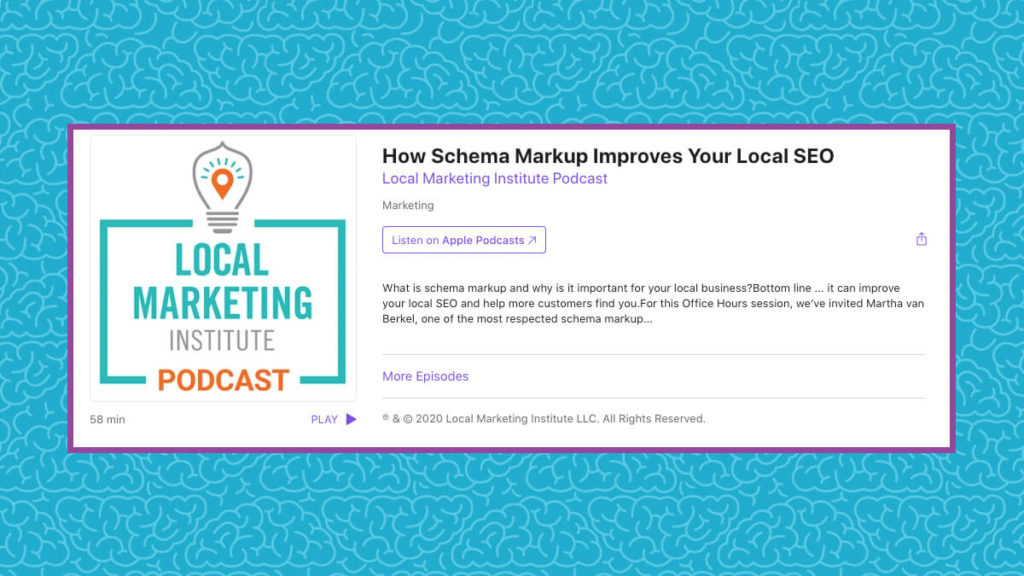 ---
Search Talk Live Search Engine Marketing & SEO Podcast
The Future of Schema Markup With Martha Van Berkel of CEO of Schema App
---
Craig Campbell's Digital Marketing Podcast
Use Schemaapp.com to add your Schema Markup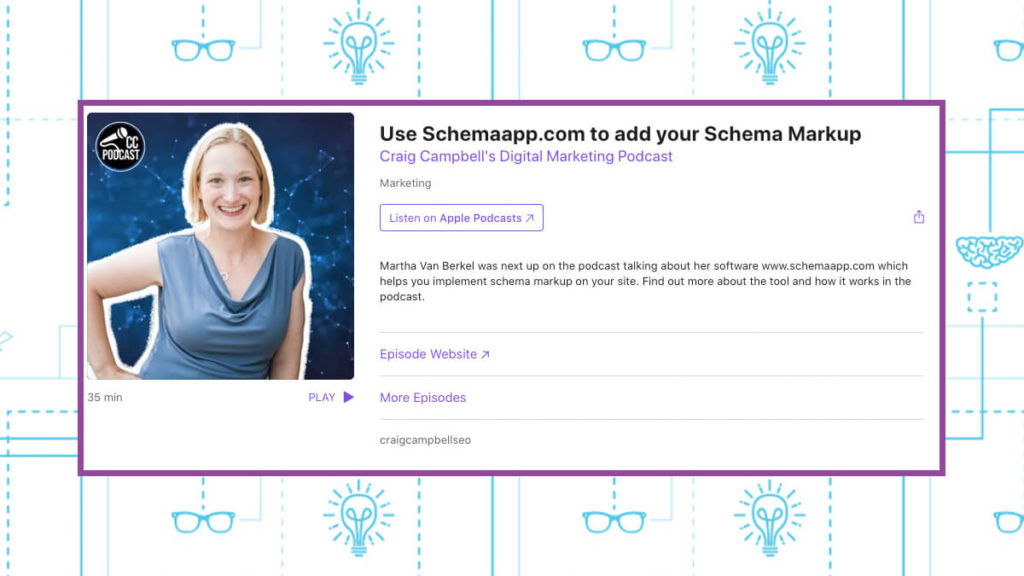 Ending the Interviews
If you carved out a few hours and listened to the six recommendations – I think you are:
Signing up for Schema App (or)
Learning how to implement Schema on your website manually
One thing is for sure, you realize the power of Schema – and Martha is the Queen of Schema.