Do you have a WordPress website? There is a 35% chance the answer is yes. WordPress has been my CMS (Content Management System) of choice for several years. There are many benefits, one being that my clients can update their own sites. I also like the consistency. This makes it easy to have a standardized Website Audit Checklist.
Hobbies: Head to iTunes
One thing I tend to forget – there is a podcast about EVERYTHING. Every time I get interested in a subject or find a new hobby, it takes me a few weeks before I think to myself "wonder how I can learn more about (insert topic)". The answer should always be – head to Apple Podcasts.
This is what I did when I wanted to go next-level with WordPress.
Since 35% of the web (some stats say more) is using WordPress, there should be a percentage of those users/developers that are reporting the latest news on WordPress. I was not mistaken. After a quick search, I found some very reputable and well-produced podcasts. I decided to sample around 15 podcasts on one of my 17-hour drives to my second home (Walt Disney World).
The Premise of Your Website Engineer
My favorite WordPress podcast was Your Website Engineer with Dustin Hartzler. Dustin works for Automattic (the company that runs WooCommerce and Jetpack). I'm not sure what came first (his website or his job with a leading WordPress company, but either way, he provides great content.
Hey, Dustin Hartzler here, and welcome to Your Website Engineer. This website is devoted to helping you create a high quality WordPress website, by teaching you the skills to master WordPress.

Technology has come a long way in the last few years and you can create an awesome looking / easy to maintain website yourself. And that's what this site is designed to do.

This site is devoted to WordPress website.

About – yourwebsiteengineer.com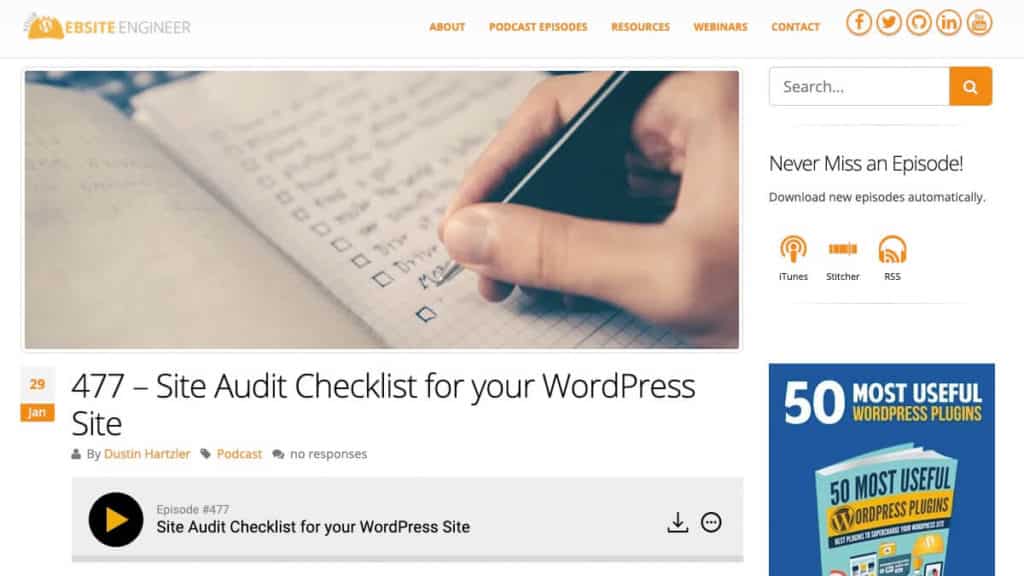 The podcast is quick and full of information. The format is typically the same.
Updates on WordPress News and WordCamps
Plugin of the Week – A WordPress Plugin Recommendation
Featured Topic – Example: WordPress Website Audit Checklists
It's a quick listen each week. I subscribed and also managed to listen to a ton of his backlogged episodes.
You can also visit the Podcast Episodes page on his website for more information on the topic – in writing.
Why Did I Pick a Podcast featuring a Website Audit Checklist?
There are a lot of very extensive website audits out there. Some tools will inundate you with information. Often I will get a report back asking me to change XYZ. Just learning what XYZ is becomes a challenge. Sometimes you want a real person telling you what needs to be done on your website.
Dustin breaks his website audit checklist down into eight different categories:
Design
Content
WordPress Settings
Functionality
SEO
Legal
Security
Maintenance
For each area on the website audit checklist, he goes through a few focus areas. If you are a newbie, you might have to slow it down, take notes, and look up a few of the suggestions. If you are a WordPress pro, most of these items will make sense.
The practice of running through these items before launching a website is helpful. I find myself launching a new WordPress website a few times a month. Even though some items become clockwork, it is always nice to have a basic checklist to run down before you publish to the world.
The Podcast: "Website Audit Checklist for Your WordPress Site"
The meat and potatoes start at about 5-minutes. Dustin goes through the list pretty quickly. If you prefer reading, he has the entire episode transcribed on his website.