I've discussed different tools to test out your website speed in the past. Just recently I recommended a podcast to help you speed up your WordPress website. Today we do a little hybrid job and talk about both – with of course a recommended podcast.
The Premise of The Business Marketing Show
At this point, I've listened to over 100 variations of digital marketing, SEO, web design, social media marketing, and advertising podcasts. I always try to give you a different podcast each week. On a few occasions, I have used the same podcast show for different topics. This is usually because they had the absolute best perspective or advice on the topic. In other situations, I like to have everyone sample new voices.
The Business Marketing Show was a new voice for me. At the start of the month, I went to Apple Podcasts and just typed in the normal "website speed" search. I went through and downloaded over 15 single episodes. I finished the majority of them and others were either poor quality, extremely boring, or difficult to listen at 2x speed.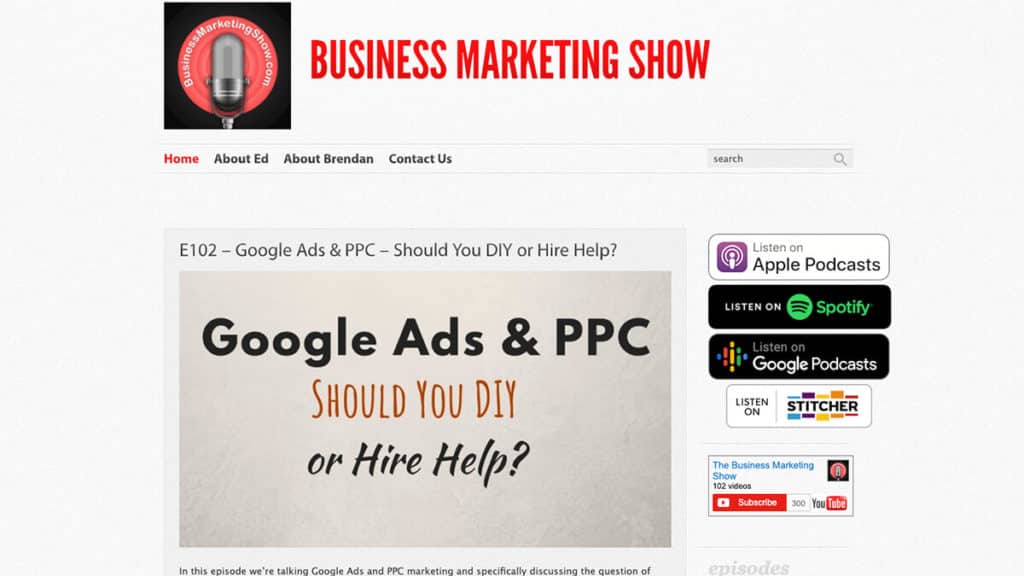 The Business Marketing Show was a perfect blend of quality sound, right length, and most importantly – great tips.
Even though the selected episode was from 2018, the content was still relevant today. It appears that the podcast's last recording was February 2019 – so it might not be a must subscribe but I wouldn't mind diving into their back catalog.
Why Did I Pick a Podcast Website Speed Tools?
We understand why website speed is important. If we don't, you skipped last week's recommendation. To make the best possible user experience and gain some of that rank boost – we need to diagnose the problem. And after that, we need to fix the problem.
The host's Ed and Brenden do a fantastic job giving you some speed tools to use and some companies to work with to make your WordPress website faster. Some of these tools and companies are:
There are great discussions and tips for these products/companies and more. They discuss https, PHP, and compressing images.
I think you should listen.
The Podcast: "Making Your Website Faster & WordPress Speed Optimization"
Get out your paper and pencil because they give you some quality advice throughout this 28 minute episode.